The Wellness Practitioner
Swedish Bitters Tincture (100 ml)
Support general health and wellbeing naturally.
What are the benefits of Swedish Bitters Tincture?
Historically, Swedish Bitters Tincture is a bitter and a traditional herbal tonic, the use of which dates back to the 15th century where the creator of the original formula, Dr. Claus Samst, stated that it could help bring relief from 46 conditions. 
Today, the Swedish Bitters Tincture is popular amongst herbalists and is often suggested for those who are looking to improve their overall health and vigour. 
The Wellness Practitioners Swedish Bitters Tincture can be taken for short periods of time.
What is Swedish Bitters Tincture?
Swedish Bitters Tincture (also known as Swedish tincture)  contains a variety of herbal ingredients that on their own may be beneficial to the body, but together they make a powerful health-supporting tincture.
The ingredients in this Swedish Bitters Tincture has aloe as the main active ingredient, and then the following herbs are added to a 2% alcohol base: Angelica root, Camphor, Carline thistle root, Manna, Myrrh, Rhubarb root, Saffron, Senna, Theriac venetian and Zedoary root.
Why does this Swedish Bitters Tincture contain alcohol?
Alcohol is used as it is an excellent solvent for extracting herbal medicines. The amount of alcohol used in this herbal tincture is small and therefore does not have any intoxicating effects. 
All of The Wellness Practitioner range of herbal remedies and nutritional supplements have been tested for safety and quality independently. 
Who could benefit from taking this Swedish Bitters Tincture?
People looking to improve their overall health and wellbeing. This information provided on this Swedish Bitters Tincture is based on traditional use only. 
There are no reviews for this product.
Leave a review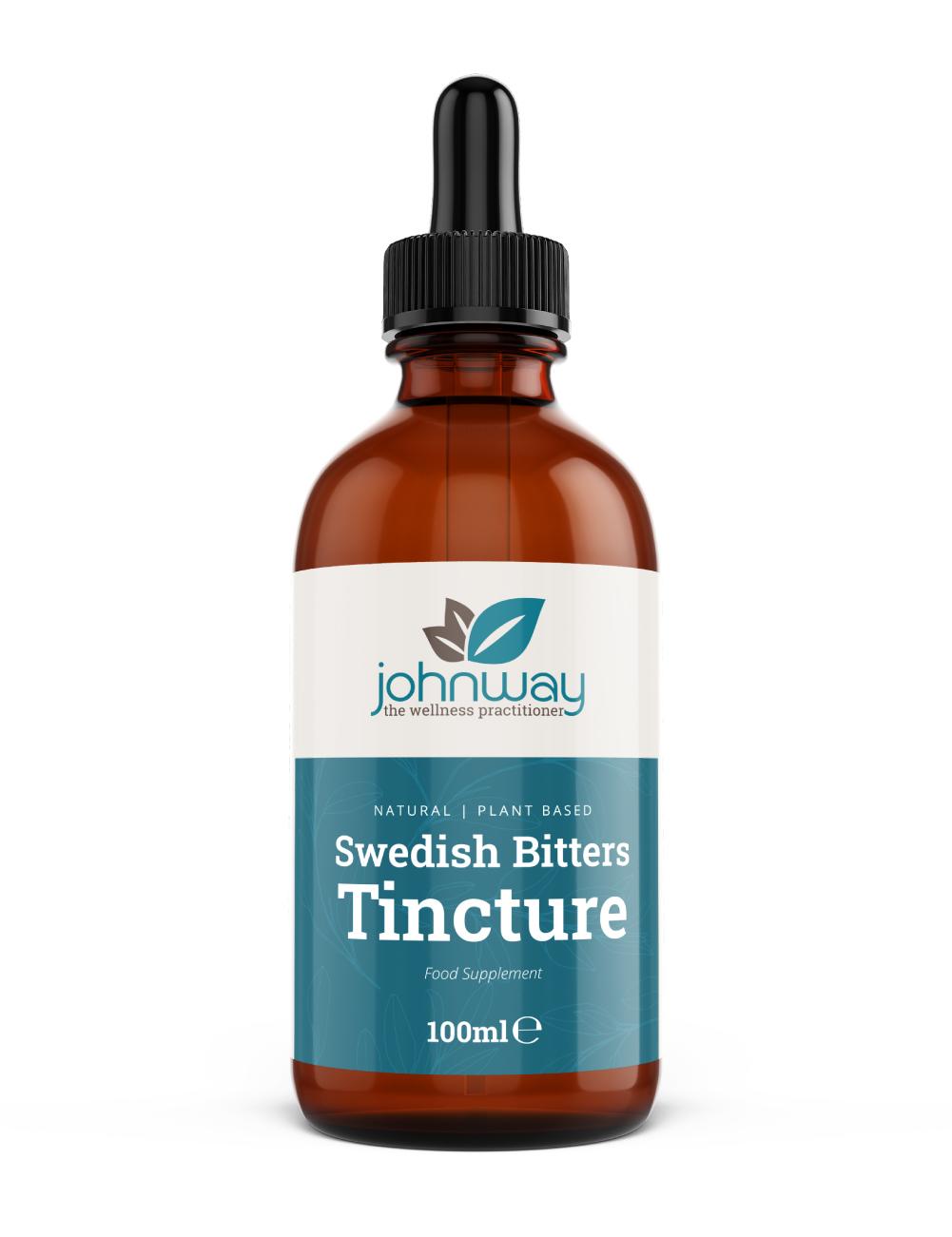 Swedish Bitters Tincture (100 ml)
Recommend to a friend
The details
Ingredients

Agua, Ethanol, Eleutherococcus senticosus. (Extraction ratio 1:3, alcohol volume 45%).

Dosage

15 to 30 drops in little water, up to 3 times a day, or as directed by health practitioner. 

Safety & Warnings

Do not exceed stated recommended dose. A food supplement should not be used as a substitute for a varied diet. Please seek medical advice if pregnant or lactating. Store in a cool place, out of reach and sight of children. 
Delivery & Returns
Learn how to edit the text in this section by looking at your theme's notes section.