Solgar
Solgar® Vitamin C 1000 mg with Rose Hips Tablets
Solgar® Vitamin C 1000 mg with Rose Hips is a premium supplement suitable for vegans and just 1 tablet a day provides 1000 mg of Vitamin C and one of its synergistic counterparts, rose hips.
Vitamin C is a water-soluble vitamin, sourced from natural ingredients such as rose hips and acerola. Rose hips contain bioflavonoids which naturally occur with vitamin C in nature. Bioflavonoids help to enhance the absorption and bioavailability so make sure you will receive all the benefits form Vitamin C.
Vitamin C is an essential, water-soluble vitamin that is only stored in the body in small amounts. This vitamin helps fight free radicals. Free radicals can lead to oxidative stress and the premature aging of cells. Vitamin C also help maintain a healthy immune system and has multiple benefits to help to reach optimal health
Just 1 tablet a day will contribute to:
The normal collagen formation for the normal function of blood vessels, bones, cartilage, gums, skin and teeth
The normal energy-yielding metabolism
The normal functioning of the nervous system
The normal psychological function
The normal functioning of the immune system, as well as during and after intense physical exercise
The protection of cells from oxidative stress
The reduction of tiredness and fatigue
The regeneration of the reduced form of vitamin E
The increase of iron absorption
All Solgar® products meet our industry recognized "Gold Standard" for excellence. Made using naturally sourced ingredients and innovating since 1947, Solgar® is your perfect supplement to good health – 98% of Solgar® consumers recommend the brand*
There are no reviews for this product.
Leave a review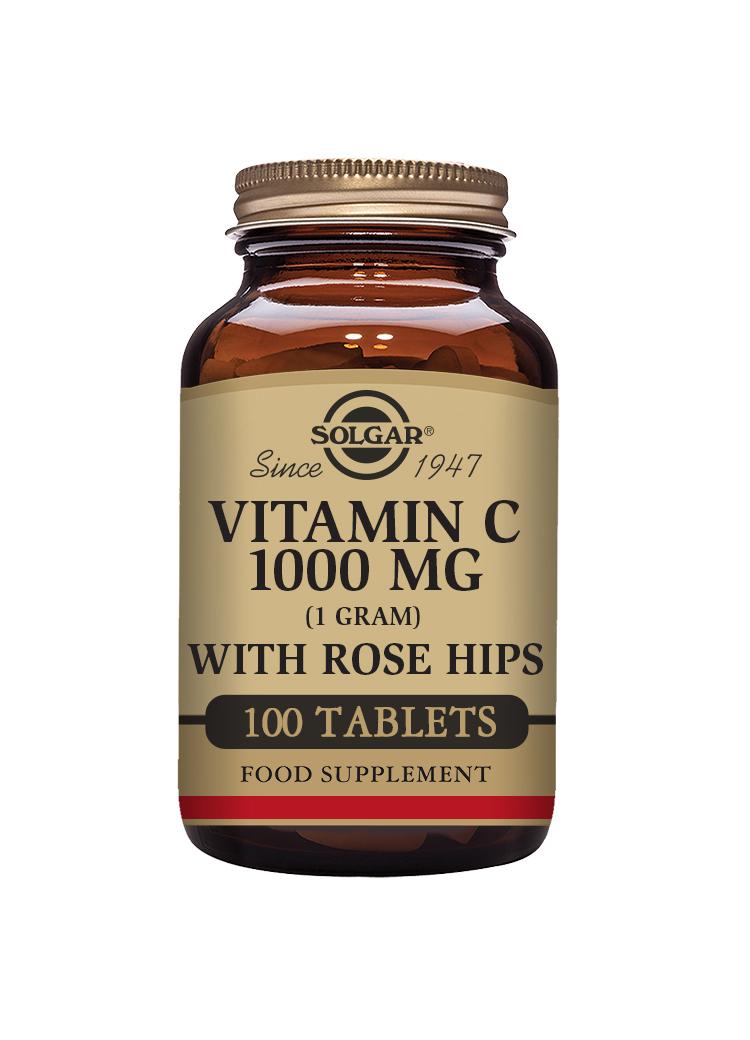 Solgar® Vitamin C 1000 mg with Rose Hips Tablets
Recommend to a friend
The details
Ingredients

Vitamin C (as L-Ascorbic acid), Bulking Agent: microcrystalline cellulose, Rose Hips Powder, Glazing Agents: (hydroxypropylmethyl cellulose, vegetable glycerin (from palm kernel oil and coconut oil)), Anti-caking Agents: (vegetable stearic acid, silicon dioxide, vegetable magnesium stearate), Cellulose Gum.

Dosage

As a food supplement for adults, 1 tablet  daily, preferably at mealtime, or as directed by a healthcare practitioner. Do not exceed directions for use.

Safety & Warnings

Food supplement should not be used instead of a varied balanced diet and a healthy lifestyle. If you are pregnant, nursing, taking any medication or have any medical condition, please consult your health care practitioner before taking this product. Keep out of reach of children. Store at room temperature. Do not use if outer bottle seal is missing or damaged.
Delivery & Returns
Learn how to edit the text in this section by looking at your theme's notes section.