Solgar
Solgar® Vitamin B-Complex "50" High Potency Vegetable Capsules
Solgar® Vitamin B-Complex ''50'' is a high potency Vitamin B-Complex delivering a 50 mg dose of key B vitamins. Many B vitamins are interdependent, and thus it is best to take them in combination, such as through a B-complex or a multiple vitamin containing a B-complex.
Solgar's unique formula delivers Thiamine (B1), Riboflavin (B2), Niacin (B3), Pantothenic Acid (B5), and Vitamin B6, along with other B vitamins such as Folic Acid, Biotin (B7) and Vitamin B12. B vitamins are essential nutrients required by the body. They help our bodies convert food into energy, allowing us to stay energised throughout the day, as well as supporting our mental performance.
Although not dependent on dietary fat for absorption, as one of the main properties of B vitamins is to convert food into energy, it is recommended to take them with a meal.
Solgar® Vitamin B-Complex ''50'' is a rich complex of B vitamin in one capsule daily:
High potency dose of B vitamins
Riboflavin (Vitamin B2), Niacin (Vitamin B3), Vitamin B6 and B12 contribute to the reduction of tiredness and fatigue and energy-yielding metabolism
Pantothenic Acid (Vitamin B5) contributes to normal mental performance
Thiamine (Vitamin B1), Biotin (Vitamin B7), Niacin (B3) and Vitamin B6 contribute to normal nervous system and psychological functions
Thiamine (B1) contributes to the normal function of the heart
Riboflavin (B2) contributes to the protection of cells from oxidative stress and the maintenance of normal vision
Niacin (B3) and Biotin (B7) contribute to the maintenance of normal skin
Biotin (B7) contributes to normal macronutrient metabolism
All Solgar® products meet our industry recognized "Gold Standard" for excellence. Made using naturally sourced ingredients and innovating since 1947, Solgar® is your perfect supplement to good health – 98% of Solgar® consumers recommend the brand*
There are no reviews for this product.
Leave a review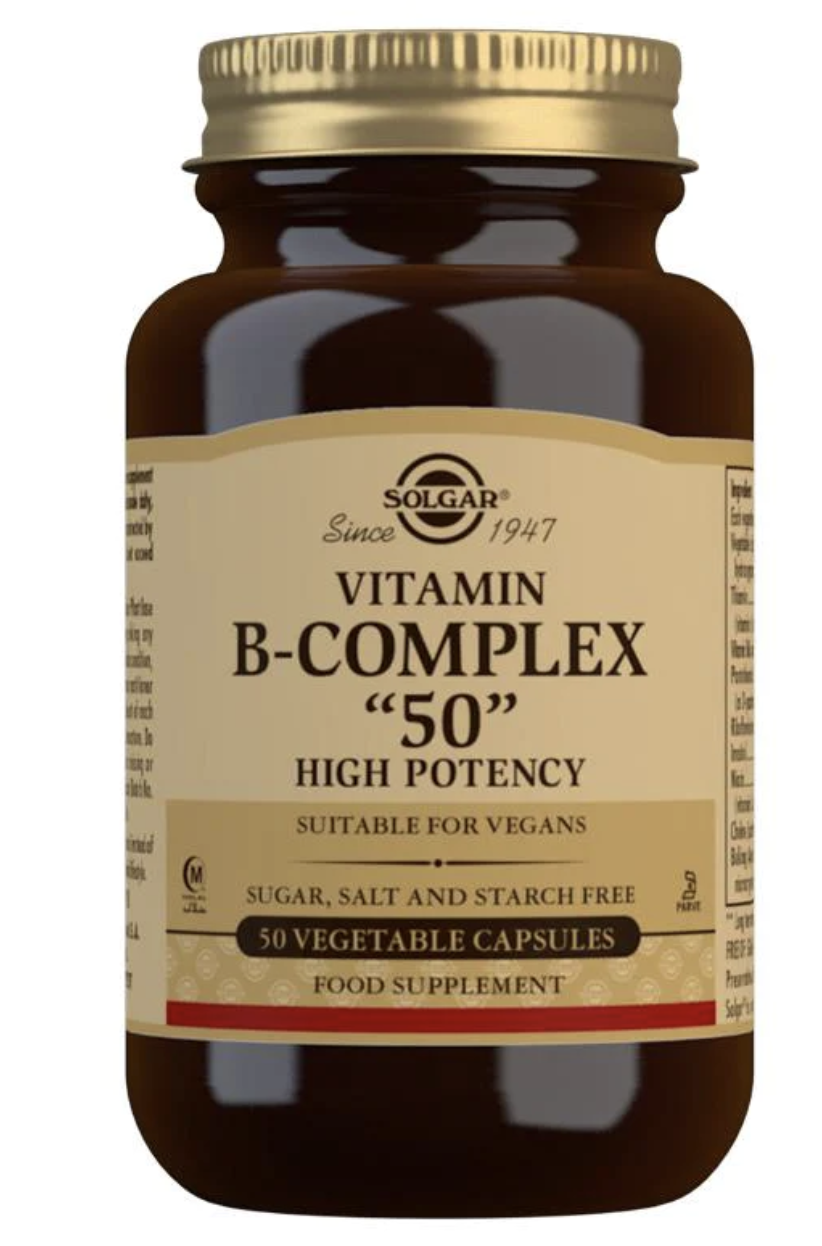 Solgar® Vitamin B-Complex "50" High Potency Vegetable Capsules
Recommend to a friend
The details
Ingredients

Vegetable Capsule Shell: hydroxypropylmethyl cellulose, Thiamin (vitamin B1, as thiamin mononitrate), Vitamin B6 (as pyridoxine HCl), Pantothenic Acid (as D-pantothenate, calcium), Choline (as bitartrate), Niacin (vitamin B3, as nicotinamide), Riboflavin (vitamin B2), Inositol, Anti-caking Agents: (vegetable stearic acid, vegetable magnesium stearate, silicon dioxide), Bulking Agent: dicalcium phosphate, microcrystalline cellulose, hydroxypropyl methylcellulose, Vitamin B6 (as pyridoxine HCI), Powdered Plant Base (Kelp (Ascophyllum nodosum), Alfalfa (Medicago sativa) Leaf and Stem, Acerola (Malpighia glabra) Extract Fruit, Parsley (Petroselinum crispum) Leaf, Watercress (Nasturtium officinalis) Leaf and Stem, Rose Hips (Rosa canina) Fruit), Folic Acid (as pteroylmonoglutamic acid), Vitamin B12 (as cyanocobalamin), D-biotin.

Dosage

As a food supplement for adults, 1 vegetable capsule daily, preferably at mealtime, or as directed by a healthcare practitioner. Do not exceed directions for use.

Safety & Warnings

Food supplement should not be used instead of a varied balanced diet and a healthy lifestyle. If you are pregnant, nursing, taking any medication or have any medical condition, please consult your health care practitioner before taking this product. Keep out of reach of children. Store at room temperature. Do not use if outer bottle seal is missing or damaged.
Delivery & Returns
Learn how to edit the text in this section by looking at your theme's notes section.