Solgar
Solgar® Skin, Nails and Hair Tablets
Nutritional imbalances, stress, lack of sleep and other environmental factors can affect the condition of skin, hair or nails resulting in lack-lustre appearance and condition. Help to keep your skin, nails and hair healthy with Solgar® Skin Nails & Hair Formula for an energised everyday glow. Solgar® Skin Nails & Hair is the perfect daily beauty support formula to build your beauty regime, containing zinc, copper, OptiMSM®, silica (from red algae), amino acids and vitamin C.
A comprehensive formulation designed to help build collagen, a major component of skin, and also to support healthy hair and nails.
Premium daily beauty support formula containing essential beauty nutrients supportive of skin, nail and hair health, including zinc, copper and vitamin C
Supports a youthful glow, with vitamin C which aids in the manufacture of collagen, supporting skin structure and elasticity
Helps to prevent damage to skin cells that may be linked to premature ageing
Supportive of skin complexion and hair colour, as copper contributes to normal skin and hair pigmentation as well as to the protection of cells from oxidative stress
Also provides MSM, silica as red algae powder (L corallioides, silicon dioxide), and amino acids (L-Lysine and L-Proline)
Vitamin C contributes to normal collagen formation for the normal function of skin, and to the protection of cells from oxidative stress
Zinc contributes to the maintenance of normal skin, nails and hair, and to the protection of cells from oxidative stress
All Solgar® products meet our industry recognized "Gold Standard" for excellence. Made using naturally sourced ingredients and innovating since 1947, Solgar® is your perfect supplement to good health – 98% of Solgar® consumers recommend the brand*
There are no reviews for this product.
Leave a review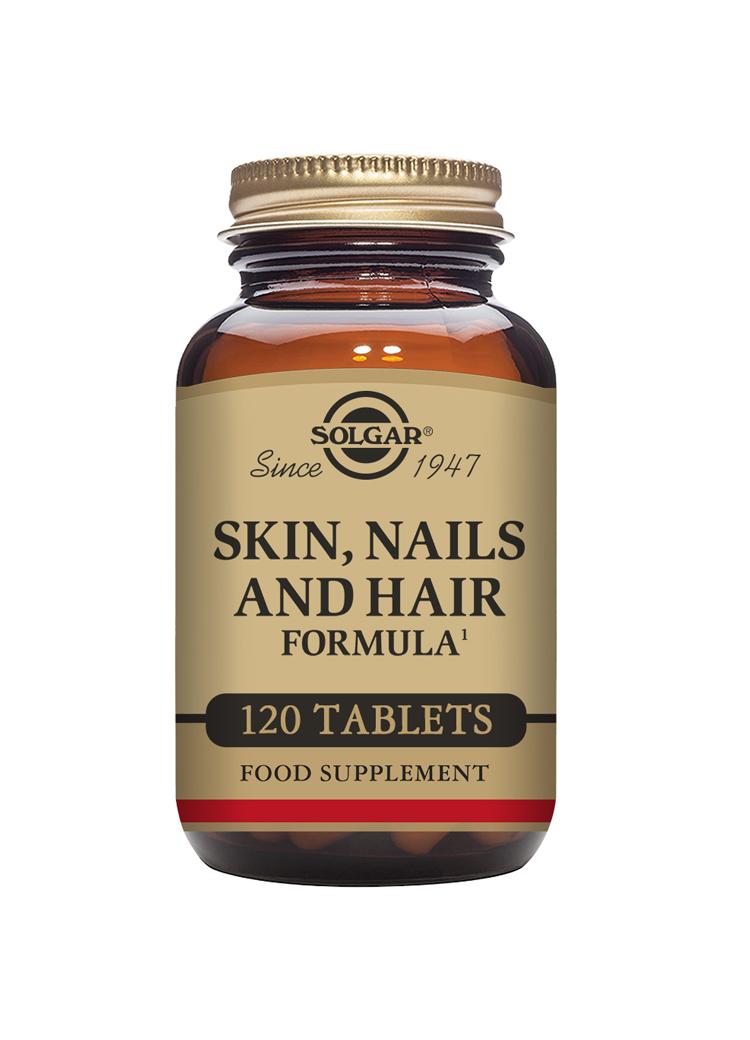 Solgar® Skin, Nails and Hair Tablets
Recommend to a friend
The details
Ingredients

MSM (methylsulfonylmethane), Bulking Agent: microcrystalline cellulose, Anti-caking Agents: silicon dioxide, vegetable stearic acid, vegetable magnesium stearate, Vitamin C (L-Ascorbic acid), Red algae (L. calcareum) powder, L-Lysine (as L-Lysine HCI), L-Proline, Cross-Linked Cellulose Gum, Zinc (as citrate), Glazing Agents: hydroxypropylmethyl cellulose, vegetable glycerin (from palm kernel oil and coconut oil), Copper (as bisglycinate).

Dosage

As a food supplement for adults, 2 tablets daily, preferably at mealtime, or as directed by a healthcare practitioner. Do not exceed directions for use.

Safety & Warnings

Food supplement should not be used instead of a varied balanced diet and a healthy lifestyle. If you are pregnant, nursing, taking any medication or have any medical condition, please consult your health care practitioner before taking this product. Keep out of reach of children. Store at room temperature. Do not use if outer bottle seal is missing or damaged.
Delivery & Returns
Learn how to edit the text in this section by looking at your theme's notes section.