Solgar
Solgar® Methylcobalamin (Vitamin B12) 1000 µg Nuggets - Pack of 30
The "body-ready" Solgar® Methylcobalamin (Vitamin B12) nuggets contain 1000 _g of this naturally occurring form of Vitamin B12. It plays a number of different roles in the body such as reducing tiredness, assisting in the release of energy from foods and supporting your vitality.
Presented as sublingual nuggets (that dissolve under the tongue), this product is a convenient, easy to take version of this versatile nutrient, particularly important for those with a restrictive diet (such as Vegan). Beyond energy Vitamin B12 has several health benefits supporting general vitality and wellbeing. Vitamin B12 promotes the health of the nervous system and healthy blood cell formation, and supports energy metabolism.
Vitamin B12 is naturally found in fish, dairy produce, organ meats, beef, pork, fortified foods and is a water-soluble vitamin. Vitamin B12 is necessary to maintain energy and general vitality and has numerous health benefits. Solgar's Methylcobalamin Nuggets are taken sublingually (dissolved under the tongue), which means the B12 bypasses the stomach and is absorbed directly into the blood.
Vitamin B12 supports energy metabolism and contributes to:
Energy-yielding metabolism
Normal functioning of the nervous system
Normal homocysteine metabolism
Normal psychological function
Normal red blood cell formation
Normal function of the immune system
The process of cell division
All Solgar® products meet our industry recognized "Gold Standard" for excellence. Made using naturally sourced ingredients and innovating since 1947, Solgar® is your perfect supplement to good health – 98% of Solgar® consumers recommend the brand*
There are no reviews for this product.
Leave a review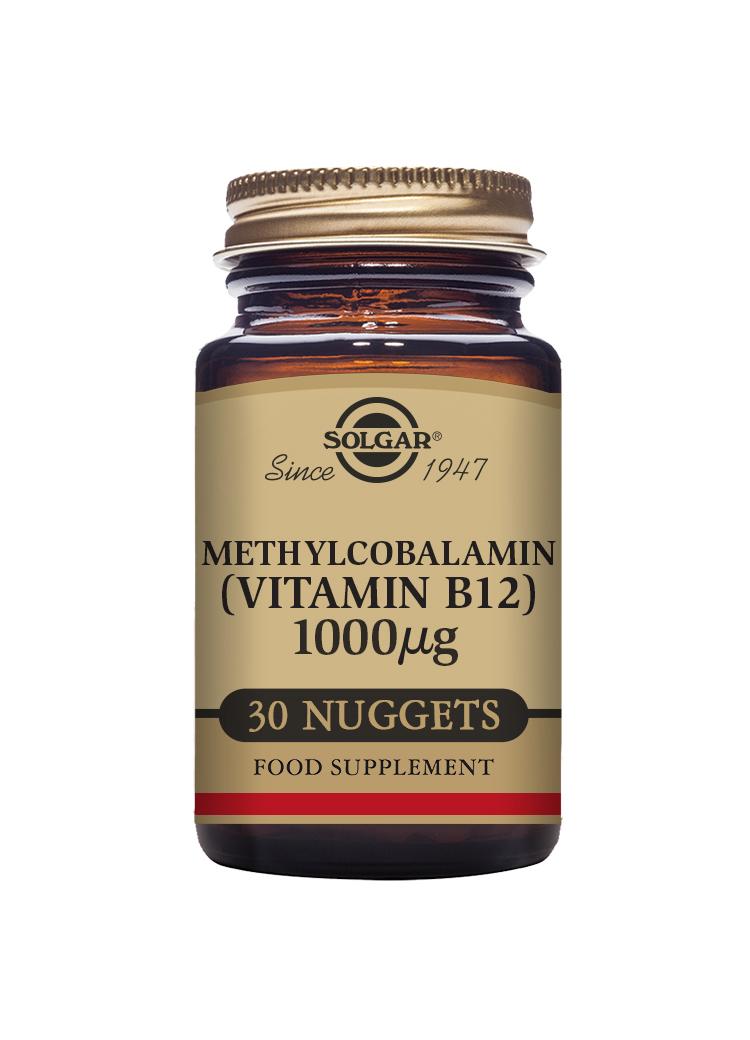 Solgar® Methylcobalamin (Vitamin B12) 1000 µg Nuggets - Pack of 30
Recommend to a friend
The details
Ingredients

Bulking Agent: mannitol, Anti-caking agents: vegetable stearic acid, silicon dioxide, vegetable magnesium stearate, VitaminB12 (asmethylcobalamin), Flavour: natural cherry, Cellulase Gum

Dosage

As a food supplement for adults, 1 nugget daily, preferably at mealtime, or as directed by a healthcare practitioner; to be placed between the cheek and gum, under the tongue or chewed. Do not exceed directions for use.

Safety & Warnings

Food supplement should not be used instead of a varied balanced diet and a healthy lifestyle. If you are pregnant, nursing, taking any medication or have any medical condition, please consult your health care practitioner before taking this product. Keep out of reach of children. Store at room temperature. Do not use if outer bottle seal is missing or damaged.
Delivery & Returns
Learn how to edit the text in this section by looking at your theme's notes section.