Solgar
Solgar® Kangavites Natural Orange Burst Vitamin C 100 mg Chewable Tablets - Pack of 90
Solgar® Kangavites Natural Orange Burst Vitamin C 100 mg is a chewable product formulated with both parents and kids in mind.
Vitamin C is a water soluble vitamin that helps fight free radicals and to maintain a healthy immune system. It has multiple benefits which supports optimal health, ranging from reducing tiredness and fatigue, to supporting bones and teeth.
Solgar® Kangavites Vitamin C 100 mg is part of a range especially formulated for children with a strong nutritional profile and delicious, burst-in-the-mouth natural flavour. Just one chewable tablet contributes to:
Function of the immune system
Collagen formation for the normal function of gums & teeth
Collagen formation for the normal function of skin
Functioning of the nervous system
The reduction of tiredness and fatigue
Increasing iron absorption
All Solgar® products meet our industry recognized "Gold Standard" for excellence. Made using naturally sourced ingredients and innovating since 1947, Solgar® is your perfect supplement to good health – 98% of Solgar® consumers recommend the brand*
There are no reviews for this product.
Leave a review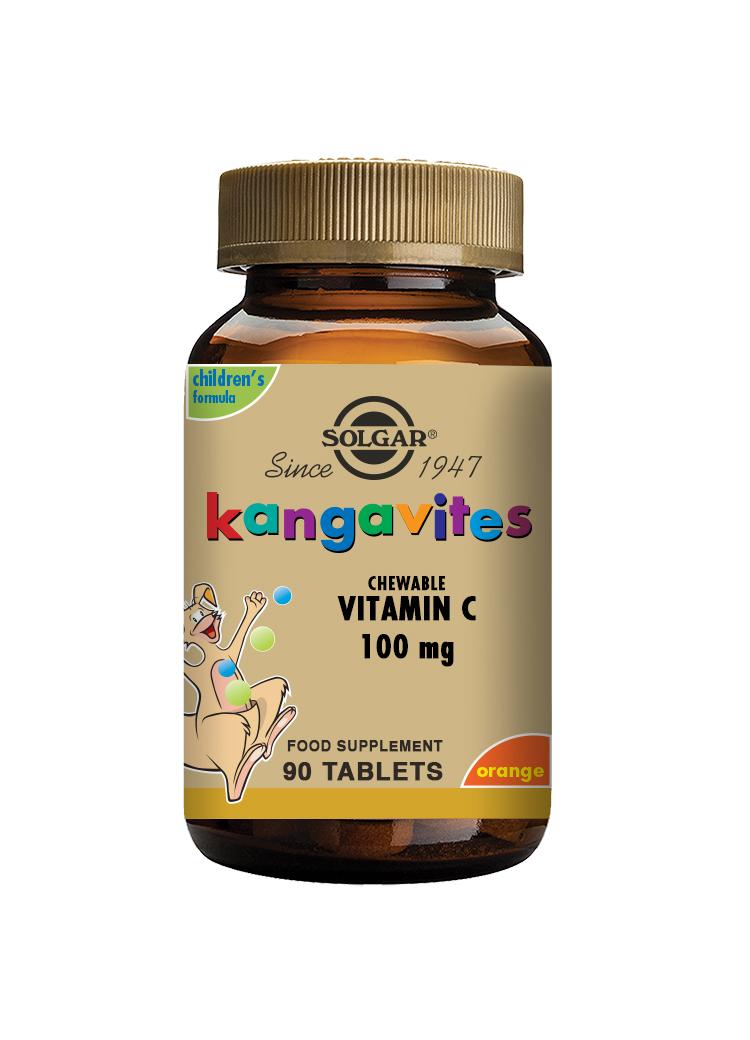 Solgar® Kangavites Natural Orange Burst Vitamin C 100 mg Chewable Tablets - Pack of 90
Recommend to a friend
The details
Safety & Warnings

Bulking Agents: (sucrose, fructose, microcrystalline cellulose, maltodextrin, mannitol, xylitol, arrageenan, gum arabic, xanthan gum, hydroxypropylmethyl cellulose), Vitamin C (as sodium ascorbate, L-Ascorbic acid), Anti-caking Agents: (vegetable stearic acid, silicon dioxide, vegetable magnesium stearate), Colour: freeze dried carrot juice concentrate, Acerola Powdered Extract (4:1), Natural Flavourings: (orange, Prosweet), Powdered Rose Hips.
Delivery & Returns
Learn how to edit the text in this section by looking at your theme's notes section.