Solgar
Solgar® EPA/GLA Softgels
Solgar® EPA/GLA Softgels contain omega-3 fatty acids EPA and DHA, as well as GLA. Good fats, or Omega-3 fatty acids as they are known, are essential fatty acids. They are called essential as the body is not able to make it on its own. Solgar® EPA/GLA consists of the most important types of Omega 3 EPA (Eicosapentaenoic Acid) and DHA (Docosahexaenoic Acid). These are commonly found in oily fish such as sardines, mackerel and salmon. GLA (Gamma-linolenic Acid), which is also found in this formula, is derived from borage seed oil. Borage, also known as starflower, is an herb commonly found in Asia, North Africa and Europe. It has been used since ancient times in traditional medicine and is a rich source of fatty acids. This formula also includes vitamin E which can help protect cells against oxidative stress. Solgar® EPA/GLA provides the body with this trio of essential fatty acids, taken as 1 softgel a day. DHA and EPA contributes to normal: • Triglyceride levels** • Brain function • Function of the heart *** DHA contributes to the maintenance of: • Normal vision*** All Solgar® products meet our industry recognized "Gold Standard" for excellence. Made using naturally sourced ingredients and innovating since 1947, Solgar® is your perfect supplement to good health – 98% of Solgar® consumers recommend the brand*
There are no reviews for this product.
Leave a review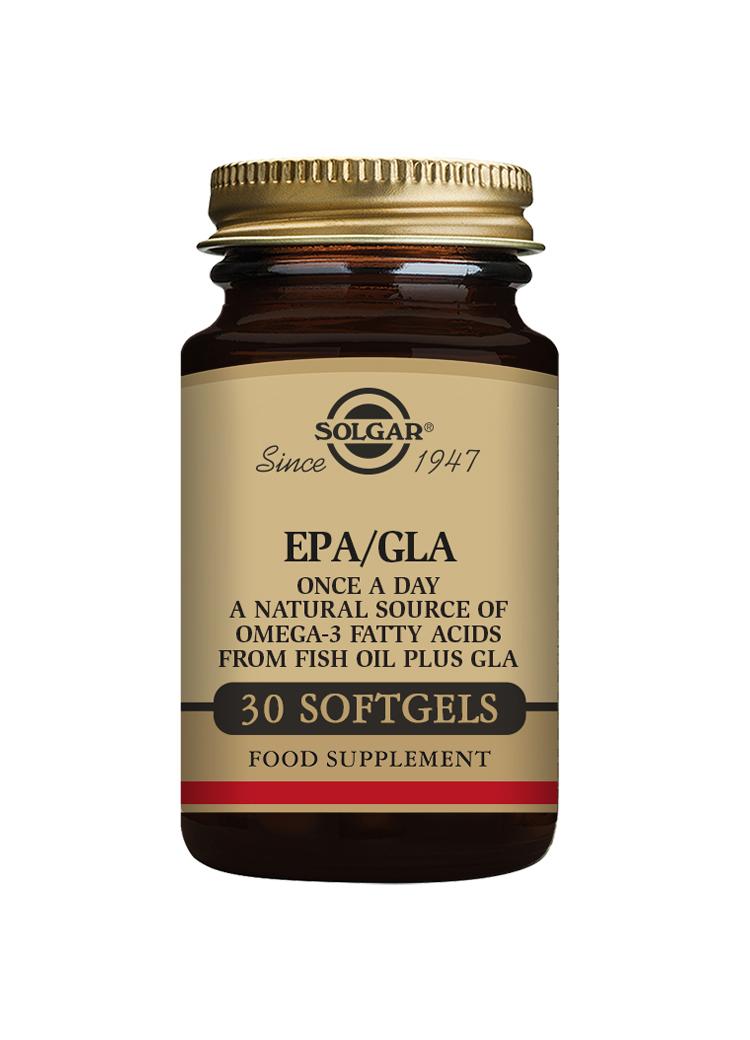 Solgar® EPA/GLA Softgels
Recommend to a friend
The details
Ingredients

Fish Oil Concentrate providing: Eicosapentaenoic Acid (EPA), Docosahexaenoic Acid (DHA), Softgel Capsule Shell: (gelatin (from bovine), vegetable glycerin (from palm kernel oil and coconut oil)), Borage Seed Oil providing: Gamma-linolenic Acid (GLA), Vitamin E (as D-alpha tocopherol).

Dosage

As a food supplement for adults, 1 tablet daily, preferably at mealtime, or as directed by a healthcare practitioner. Do not exceed directions for use.

Safety & Warnings

Food supplement should not be used instead of a varied balanced diet and a healthy lifestyle. If you are pregnant, nursing, taking any medication or have any medical condition, please consult your health care practitioner before taking this product. Keep out of reach of children. Store at room temperature. Do not use if outer bottle seal is missing or damaged.
Delivery & Returns
Learn how to edit the text in this section by looking at your theme's notes section.