Solgar
Solgar® Digestive Enzymes Tablets
Solgar® Digestive Enzymes, is a unique proprietary complex that helps support your digestive system and the absorption of your food. By taking 1-3 tablets of Solgar® Digestive Enzymes a day, you are helping your body to digest the food you eat and absorb the nutrients you need.
The digestive process is a complex system in which the body breaks down the food that we eat into nutrients with the help of digestive enzymes, which are produced in the pancreas and small intestines. If we do not have enough digestive enzymes, our body cannot break down our food completely and even though we are eating a healthy and balanced diet, the nutrients aren't being absorbed efficiently. Food allergies, low stomach acid and chronic stress all have an impact on the production of digestive enzymes. If you feel you need some extra digestive support after meals, using Solgar® Digestive Enzymes Tablets may help. This specialist formula includes ox bile, betaine, pancreatin, aspergillus oryzae, papain and pesin extract. Each of these enzymes target different food groups to give a holistic approach to the digestion from food into nutrients.
All Solgar® products meet our industry recognized "Gold Standard" for excellence. Made using naturally sourced ingredients and innovating since 1947, Solgar® is your perfect supplement to good health – 98% of Solgar® consumers recommend the brand*
There are no reviews for this product.
Leave a review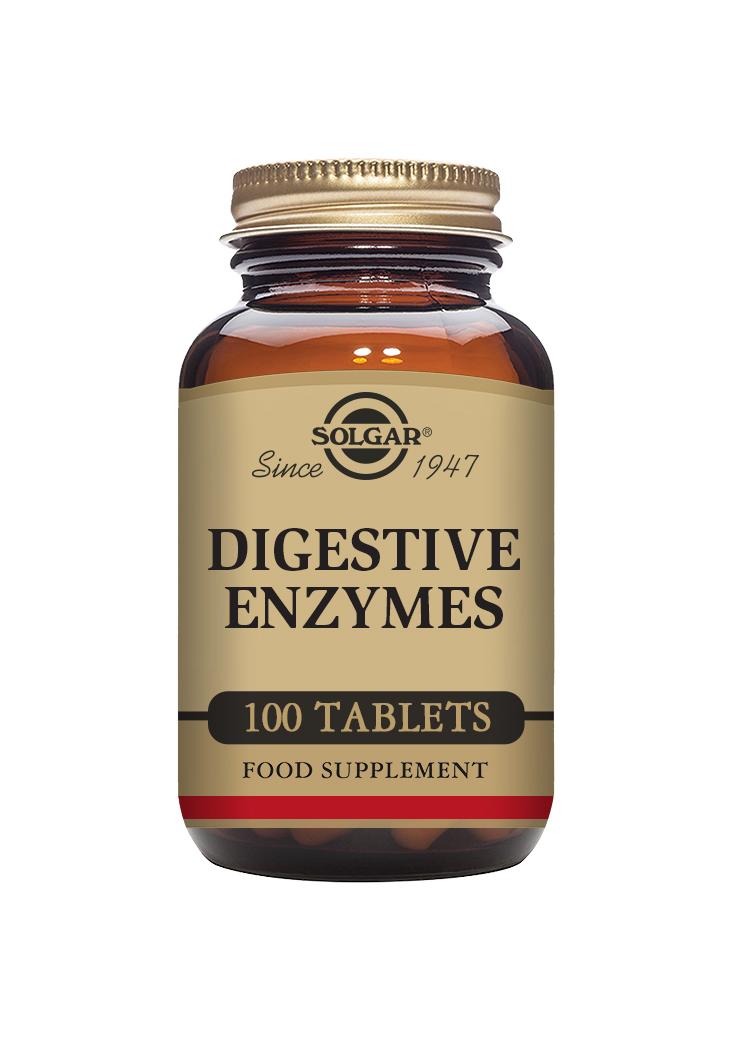 Solgar® Digestive Enzymes Tablets
Recommend to a friend
The details
Ingredients

Bulking Agents: (calcium carbonate, maltodextrin, microcrystalline cellulose, sucrose, lactose), Ox Bile Powdered Extract, Betaine HCI, Pancreatin 4X Concentrate (providing Protease, Amylase, Lipase), Powdered Peppermint (Mentha piperita) Leaf, Cross-Linked Cellulose Gum, Aspergillus oryzae, Amylase, Anti-caking Agents: (silicon dioxide, vegetable magnesium stearate), Papain, Glazing Agents: (hydroxypropylmethyl cellulose, vegetable glycerin (from palm kernel oil and coconut oil)), Pepsin Extract (contains milk).

Dosage

As a food supplement for adults, 1tablet with each main meal, to a maximum of 3 daily, or as directed by a healthcare practitioner. Do not exceed directions for use.

Safety & Warnings

Food supplement should not be used instead of a varied balanced diet and a healthy lifestyle. If you are pregnant, nursing, taking any medication or have any medical condition, please consult your health care practitioner before taking this product. Keep out of reach of children. Store at room temperature. Do not use if outer bottle seal is missing or damaged.
Delivery & Returns
Learn how to edit the text in this section by looking at your theme's notes section.