Solgar
Solgar® Chlorella 520 mg Vegetable Capsules - Pack of 100
Solgar® Chlorella 520 mg is a food supplement containing Chlorella vulgaris, a fresh water algae related to Spirulina.
Solgar®'s food supplements range consists of concentrated foods and botanical extracts to provide dietary nutritional value when taken in combination with food. The majority of the products are available in the same forms as they occur in nature.
Chlorella is a blue-green algae native to Taiwan and Japan. The rich green colour of this organism comes from the high concentration of chlorophyll which can also be found in most leafy green vegetables.
The Solgar® Chlorella 520 mg formula provides Chlorella in a broken cell-wall form. It is to be taken as 1-3 vegetable capsules a day, giving you the broad variety of benefits contained in this algae.
All Solgar® products meet our industry recognized "Gold Standard" for excellence. Made using naturally sourced ingredients and innovating since 1947, Solgar® is your perfect supplement to good health – 98% of Solgar® consumers recommend the brand*
There are no reviews for this product.
Leave a review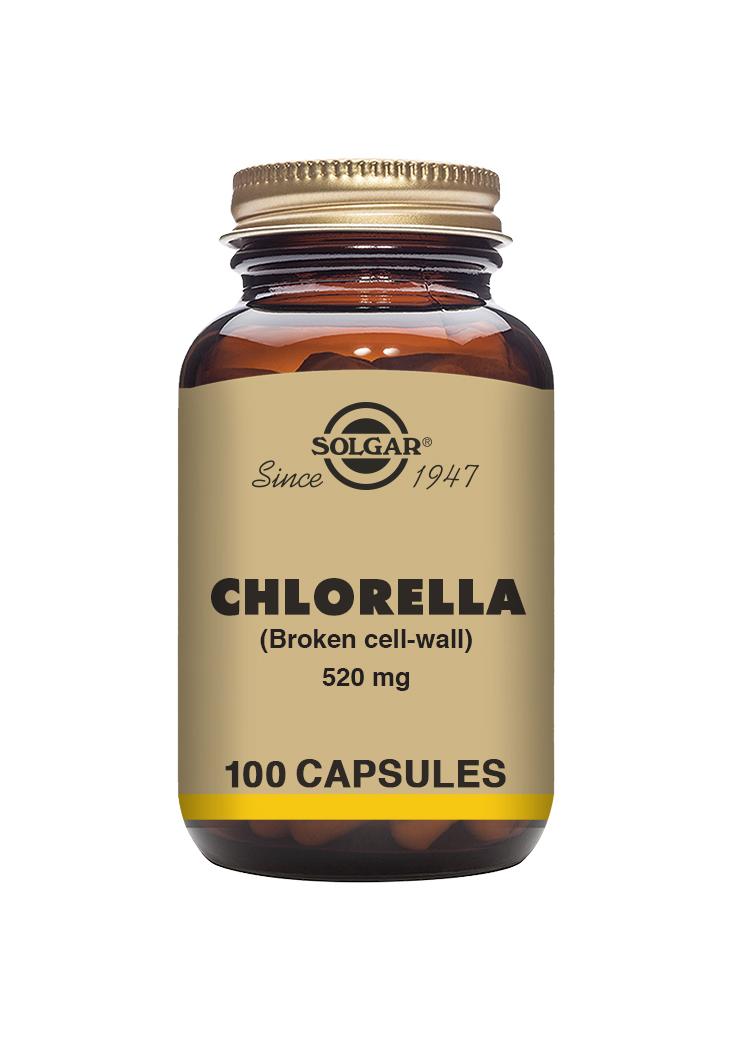 Solgar® Chlorella 520 mg Vegetable Capsules - Pack of 100
Recommend to a friend
The details
Ingredients

Chlorella Powder (broken cell-wall) (from dried and milled green micro-algae, providing chlorophyll), Vegetable Capsule Shell (hydroxypropylmethyl cellulose), Bulking Agent: microcrystalline cellulose, Anti-caking Agent: vegetable magnesium stearate*. * Made from vegetable stearic acid.

Dosage

As an herbal supplement for adults, 1-3 vegetable capsule daily, preferably at mealtimes, or as directed by a healthcare practitioner. Do not exceed directions for use.

Safety & Warnings

Food supplement should not be used instead of a varied balanced diet and a healthy lifestyle. If you are pregnant, nursing, taking any medication or have any medical condition, please consult your health care practitioner before taking this product. Keep out of reach of children. Store at room temperature. Do not use if outer bottle seal is missing or damaged.
Delivery & Returns
Learn how to edit the text in this section by looking at your theme's notes section.