The Wellness Practitioner
Reishi Mushrooms Tincture (100 ml)
Support brain health and feel mentally sharper, whilst improving your mood by feeling calmer during stressful situations!
What are the benefits of Reishi Mushroom Tincture?
Historically, the Reishi Mushroom (also known as ganoderma lucidum) was first discovered to have medicinal properties during the Han dynasty almost 2,000 years ago by Chinese healers. Since its discovery, reishi has been used as a talisman of luck, as a way to prevent premature healing and as a general wellness tonic.
Today, Reishi Mushroom is used to support optimal immune system functioning, promote deep restful sleep and promote a calm relaxed mood. The Wellness Practitioner Reishi Mushroom Tincture can be taken daily for three months on and one month off.
What is Reishi Mushroom?
Reishi Mushroom is a mushroom that grows at the base of trees low to the ground and is a distinctive red colour in a kidney shape that is native to Asia. This mushroom gets its Latin name (ganoderma lucidum) from "gan" which means "shiny", derm meaning "skin" and "lucidum" meaning "brilliant".
Why does this Reishi Mushroom Tincture contain alcohol?
Alcohol is used as it is an excellent solvent for extracting herbal medicines. The amount of alcohol used in this herbal tincture is small and therefore does not have any intoxicating effects. 
All of The Wellness Practitioner range of herbal remedies and nutritional supplements have been tested for safety and quality independently. 
Who could benefit from taking this Reishi Mushroom tincture?
For people seeking a clearer, sharper and more focused mind, and who want to feel calmer during the day and sleep more deeply at night. This information on the herbal remedy Reishi Mushroom is based on traditional use only.
There are no reviews for this product.
Leave a review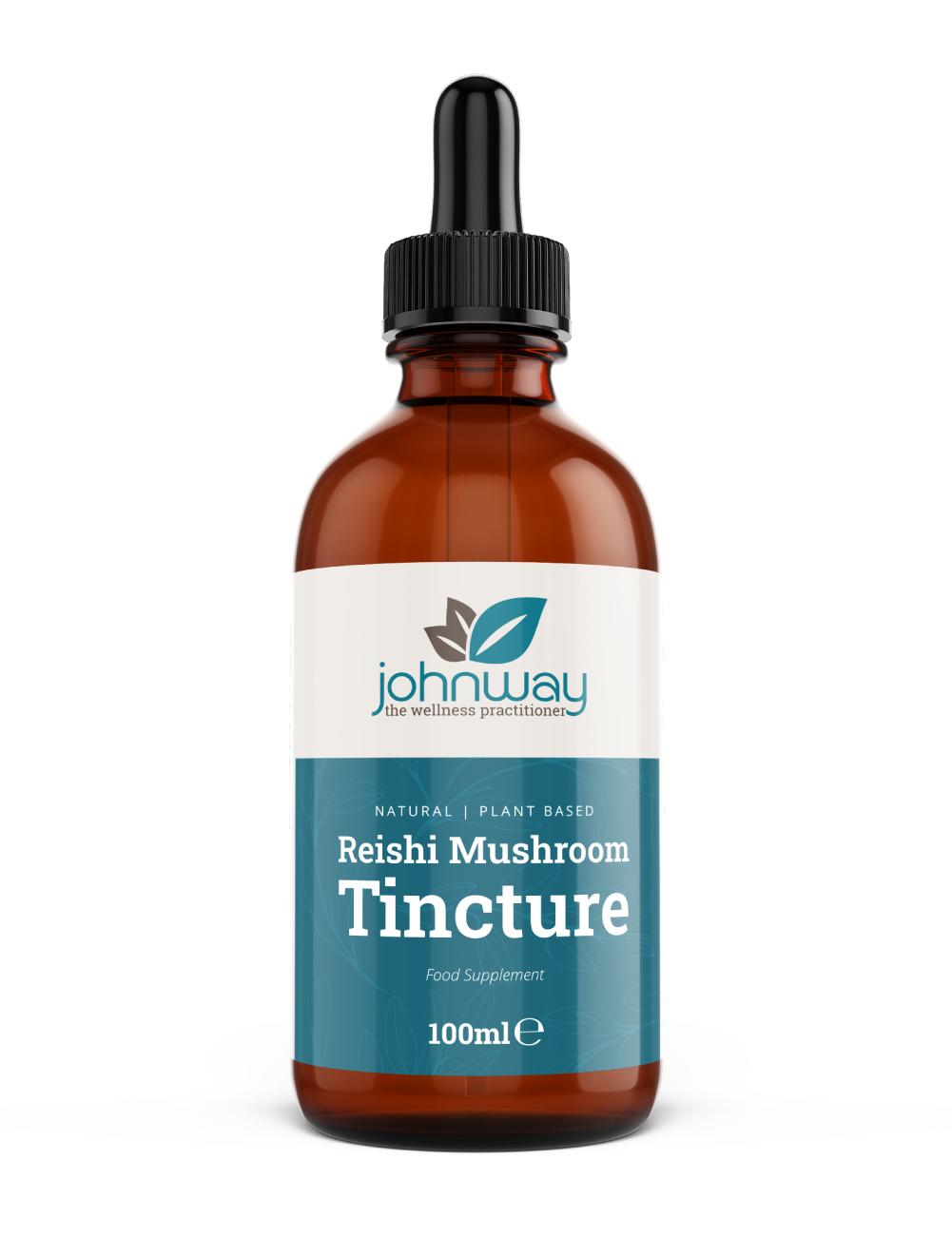 Reishi Mushrooms Tincture (100 ml)
Recommend to a friend
The details
Ingredients

Agua, Ethanol, Ganoderma lucidum. (Extraction ratio 1:3, alcohol volume 45%).

Dosage

15 to 30 drops in little water, up to 3 times a day, or as directed by health practitioner. 

Safety & Warnings

Do not exceed stated recommended dose. A food supplement should not be used as a substitute for a varied diet. Please seek medical advice if pregnant or lactating. Store in a cool place, out of reach and sight of children. 
Delivery & Returns
Learn how to edit the text in this section by looking at your theme's notes section.