MycoNutri Organic
Reishi-Cordyceps Comolex - 60 capsules
Providing truly all-round support for energy and vitality, as well as healthy immune, neurological and adrenal function.
In classical Chinese medicine Cordyceps is believed to nourish Yin and Yang while Reishi strengthens Qi and Blood and in Ayurvedic medicine Ashwagandha (the 'Indian Ginseng') is seen as the ultimate adaptogen helping support the body's resistance to stress.
Cordyceps mycelial biomass combined with Reishi dual hot-water / ethanolic extract rich in immune-modulating polysaccharides and anti-inlammatory triterpenes and the patented Ashwagandha KSM-66® root extract (minimum 5% withanolides) make this the ultimate product for the demands of today's hectic lifestyle.
There are no reviews for this product.
Leave a review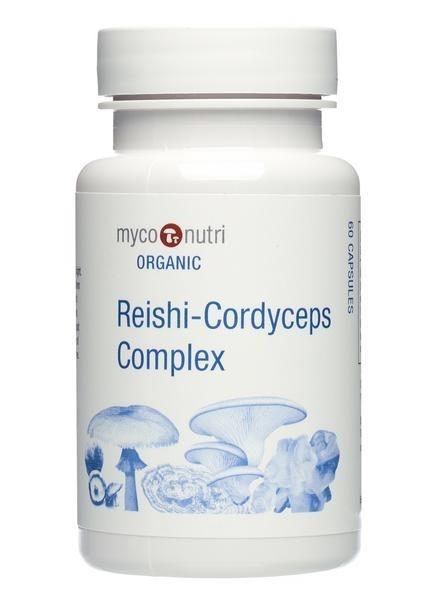 Reishi-Cordyceps Comolex - 60 capsules
Recommend to a friend
The details
Ingredients

Organic Ganoderna lucdidum hot-water/ethanol dual extract (grown on duanwood, 15% beta-glucans, 4% triterpenes), organic Ophiocordyceps sinensis mycelial biomass, organic Withania somnifera KSM66 extract (5% withanolides).

Dosage

2 capsules, 1-3 times a day as a dietary supplement

Safety & Warnings

Store in a cool, dry place out of direct sunlight. Keep out of reach of children. Not to be taken as an alternative to a balanced diet. Do not exceed recommended daily dose. Seek advise from a health professional if pregnant or nursing.
Delivery & Returns
Learn how to edit the text in this section by looking at your theme's notes section.