MycoNutri Organic
PS-7 - 60 capsules
MycoNutri Organic PS-7 is made exclusively of polysaccharide-rich hot-water extracts from seven mushrooms: Ganoderma lucidum (Reishi), Grifola frondosa (Maitake), Inonotus obliquus (Chaga), Lentinula edodes (Shiitake), Pleurotus ostreatus (Oyster Mushroom), Trametes versicolor (Coriolus) and Tremella Fuciformis (Snow Fungus) and contains a minimum 30% immune-modulating beta-glucans.
The high concentration and diverse structure of the beta-glucans and related polysaccharides in MycoNutri PS-7 makes it ideal for broad spectrum support in chronic and acute conditions as well as during conventional treatment.
There are no reviews for this product.
Leave a review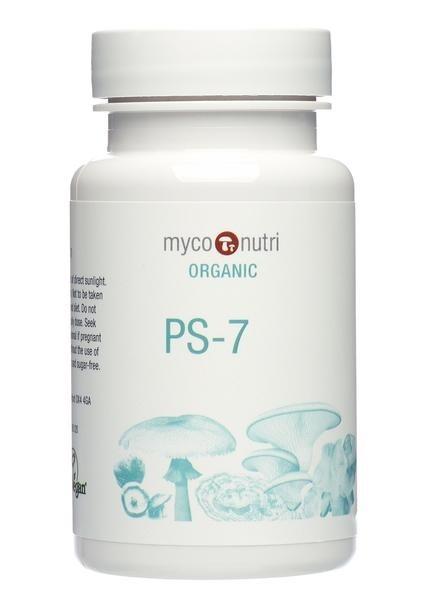 PS-7 - 60 capsules
Recommend to a friend
The details
Ingredients

Organic consentrated hot-water extracts of Ganoderma lucidum, Grifola frondosa, Inonotus obliquus, Lentinula edodes, Pleurotus ostreatus, Trametes versicolor and Tremella Fuciformis

Dosage

2-3 capsules, 1-4 times a day as a dietary supplement

Safety & Warnings

Store in a cool, dry place out of direct sunlight. Keep out of reach of children. Not to be taken as an alternative to a balanced diet. Do not exceed recommended daily dose. Seek advise from a health professional if pregnant or nursing. 
Delivery & Returns
Learn how to edit the text in this section by looking at your theme's notes section.