OptiBac
OptiBac Probiotics Saccharomyces boulardii
Optibac Bifido & Fibre is especially for those seeking a natural option, from the UK & Ireland's most trusted and recommended friendly bacteria brand*. It contains Bifidobacterium lactis BB-12®, considered to be the world's most researched strain of the entire Bifidobacterium family, as well as 4g of FOS fibres (Fructooligosaccharides) which act a source of natural fibre and increase your natural gut bacteria. This high-quality supplement has been formulated to complement your body's natural gut bacteria. The friendly bacteria strain in Bifido & Fibre supplement is scientifically proven to pass through stomach acidity and survive to reach the gut alive. 
Recommended for daily use, or as needed, this supplement will not cause dependency. Each sachet provides 25 billion live cultures and 4g FOS fibres (Fructooligosaccharides), guaranteed until end of expiry. 
Optibac Bifido & Fibre is suitable for those from 12 months+, including pregnant women, breastfeeding mothers, older people, vegans, vegetarians, and also those with coeliac disease. Not suitable for FODMAP diets. 
This flavourless supplement is gluten free & GMO free. Contains no dairy, artificial colours, flavours, preservatives, chemicals or parabens. 
Each pack contains 30 sachets. Optibac uses only the highest quality friendly bacteria strains, all tested to ensure potency at the end of shelf life. Easy to take on the go, Optibac Bifido & Fibre does not require refrigeration. 
Store in a cool, dry place below 25°C and out of direct sunlight.
There are no reviews for this product.
Leave a review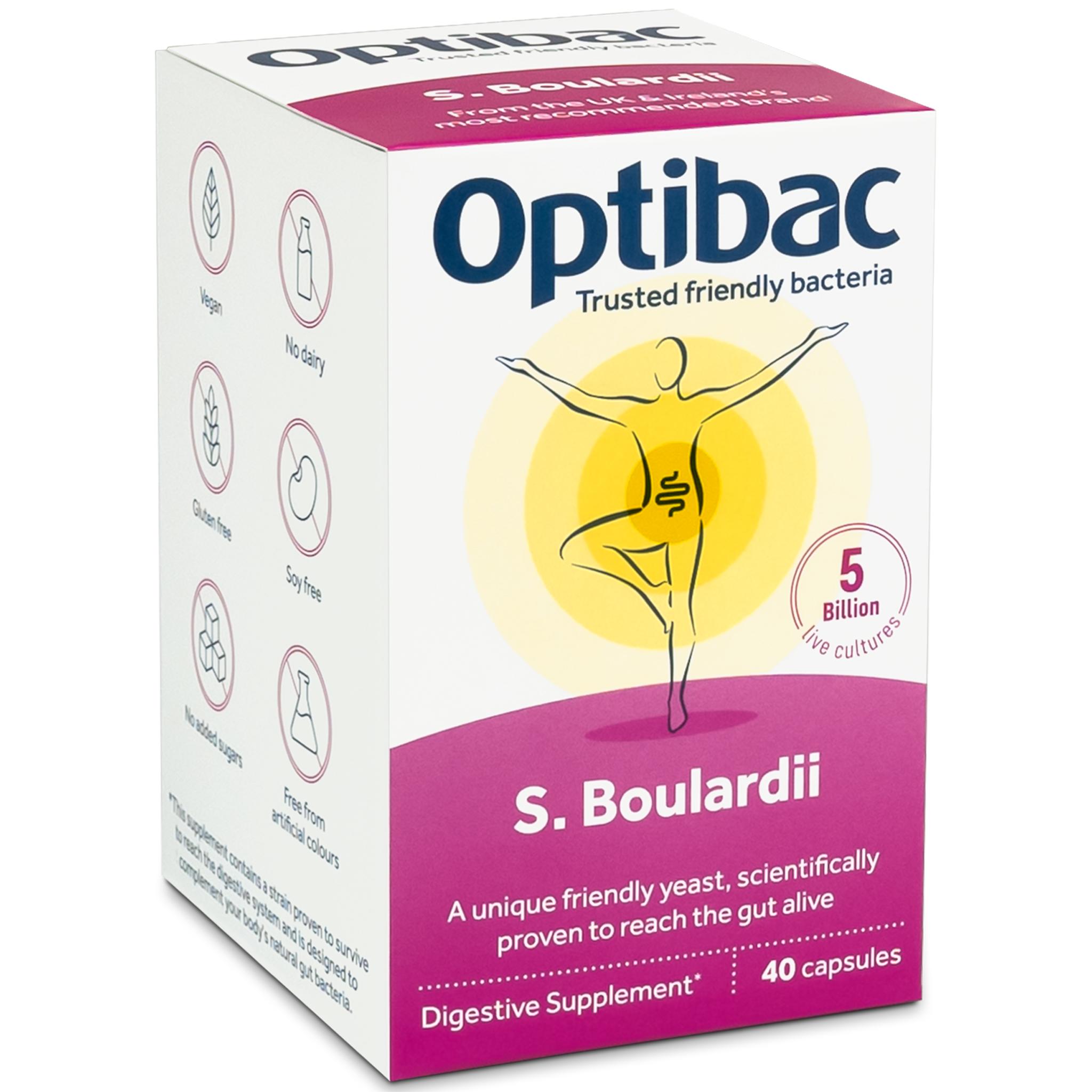 OptiBac Probiotics Saccharomyces boulardii
Recommend to a friend
The details
Ingredients

Ingredients per sachet: 25 billion live cultures Fructooligosaccharides fibres (FOS 4g); standardised culture (Bifidobacterium lactis BB-12®, fructose); anti-caking agent: silicon dioxide

Dosage

Recommended Use - Suitable from 12 months+ with the following recommendations: Initial use - Take 1 sachet (and up to 4 sachets if required) daily with food. Ongoing use (after the first few weeks) - 1 sachet will often suffice but more can be taken as desired or as professionally directed. Shake the sachet, then gradually sprinkle the contents into a glass of water. Dissolve fully before drinking. For best results take daily. Drink plenty of water with this supplement. FOS may initially result in flatulence in some people. These effects are temporary and should stop as the body adjusts. If this continues for 3-4 days, consider reducing the dosage.

Safety & Warnings

Do not exceed recommended daily dosage. This is a food supplement and is not intended to diagnose, treat, cure or prevent any disease. Food supplements should not be used as a substitute for a healthy lifestyle and varied diet. Live cultures are not recommended for those with serious medical conditions. If you are taking any medications or have a serious medical condition, consult a doctor before use. Keep out of reach of children. Optibac supplements will not cause dependency and may be used on an ongoing basis.
Delivery & Returns
Learn how to edit the text in this section by looking at your theme's notes section.