OptiBac
OptiBac Probiotics For women
Optibac For Women is a specialist supplement* for those seeking high-quality friendly bacteria for women's intimate flora, from the UK & Ireland's most trusted and recommended friendly bacteria brand**. The vaginal microbiome is different to that of the gut, so it's important to choose the right friendly bacteria. This oral supplement contains highly researched strains including L. paracasei F-19®, and the world-renowned combination of Lactobacillus rhamnosus GR-1® and Lactobacillus reuteri RC-14® which has been clinically trialled in over 2500 women around the world, in over 25 scientific studies during 30 years of research. These strains have been scientifically proven to survive to reach the intimate area. 
Recommended for daily use, each capsule provides 2.5 billion live cultures guaranteed until end of expiry. Especially formulated to complement the natural vaginal flora and increase natural levels of lactobacilli, Optibac For Women is suitable for women of all ages throughout different life stages. This includes teenagers, pregnant women, breastfeeding mothers, older women, women during menopause, and anyone who feels they could benefit. 
Can be taken intensively or on a long-term daily basis. For Women can be taken alone or alongside other supplements like cranberry, natural anti-bacterials & anti-fungals. 
Suitable for vegans & vegetarians, this supplement is also gluten free, yeast free, soy free & GMO free. Contains no dairy, no added sugars, artificial colours, flavours, preservatives, chemicals or parabens. 
Each pack contains 30 capsules. Serving size: 1 capsule a day. Optibac uses only the highest quality friendly bacteria strains, all tested to ensure potency at the end of shelf life. 
Easy to take on the go, Optibac For Women does not require refrigeration prior to opening. 
We recommend refrigerating after opening, keeping the lid screwed tightly shut and ensuring the desiccant packet remains in the jar.
There are no reviews for this product.
Leave a review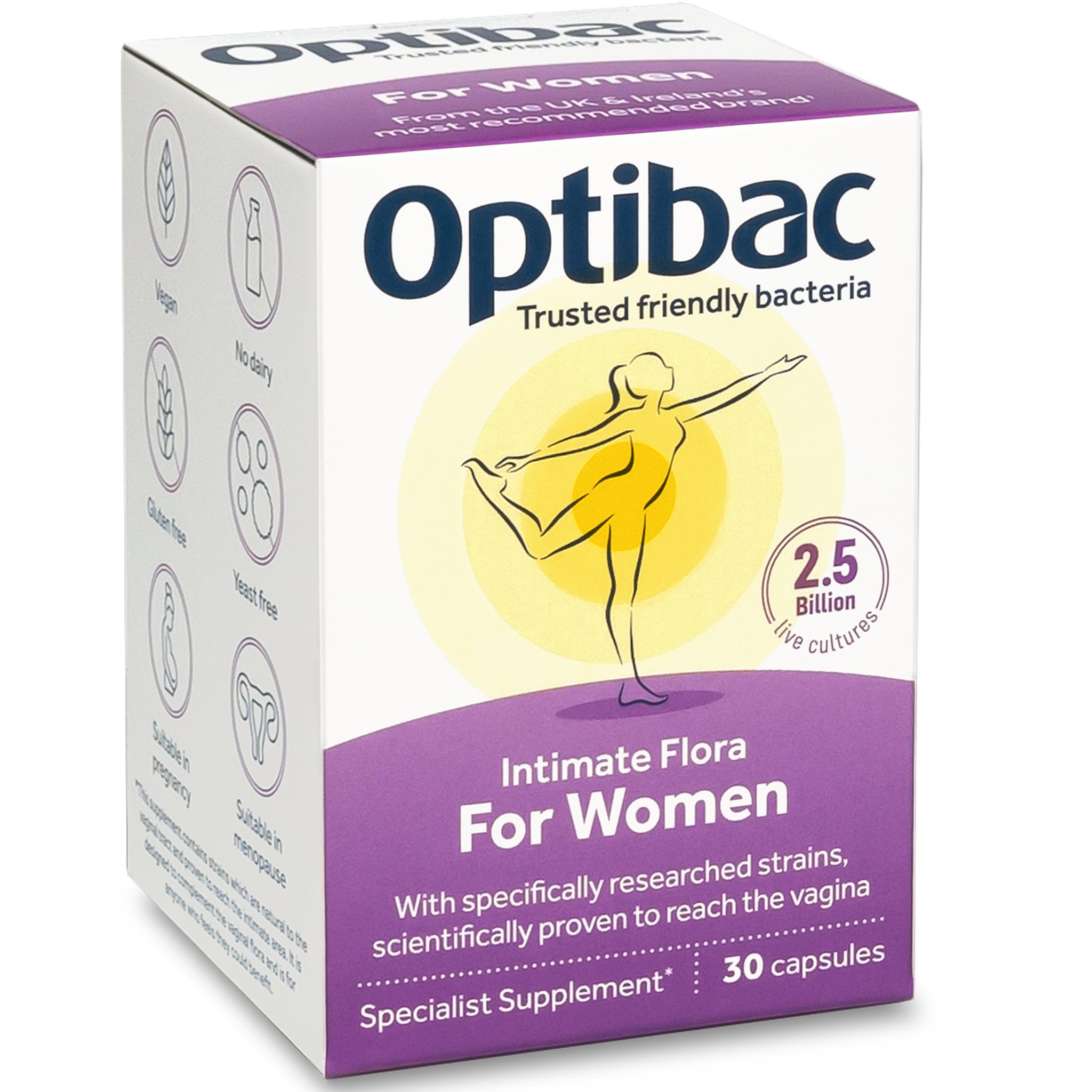 OptiBac Probiotics For women
Recommend to a friend
The details
Ingredients

Ingredients per capsule: 2.5 billion live cultures Maltodextrin (natural source); live cultures: (Lactobacillus paracasei F-19®, Lactobacillus reuteri RC-14®, Lactobacillus rhamnosus GR-1®); vegetarian capsule: hydroxypropyl methylcellulose; stabiliser: microcrystalline cellulose; anti-caking agent: vegetable magnesium stearate Following the taxonomic updates advised by a global team of scientists and published in April 2020, which look more closely at the Lactobacillus genus, a reclassification has been proposed for the L. paracasei, L. rhamnosus and L. reuteri species. The active ingredients in For Women may therefore now also be referred to as Lacticaseibacillus paracasei F-19®, Limosilactobacillus reuteri RC-14® and Lacticaseibacillus rhamnosus GR-1®.

Dosage

Recommended Use: Take 1 capsule daily, preferably with breakfast. If desired, or professionally directed, can be increased to 2 capsules a day. Can be taken intensively or on an ongoing basis. Recommended for daily use. For those unable to swallow capsules, open and mix contents with cold drink/food. For Women can safely be taken alongside other supplements in the Optibac range.

Safety & Warnings

Do not exceed recommended daily dosage. This is a food supplement and is not intended to diagnose, treat, cure or prevent any disease. Food supplements should not be used as a substitute for a healthy lifestyle and varied diet. Live cultures are not recommended for those with serious medical conditions. If you are taking any medications or have a serious medical condition, consult a doctor before use. Keep out of reach of children. Optibac supplements will not cause dependency and may be used on an ongoing basis.
Delivery & Returns
Learn how to edit the text in this section by looking at your theme's notes section.