OptiBac
OptiBac Probiotics For every day MAX, Pack of 30 capsules
Optibac Every Day MAX is a premium, high-strength, high-quality friendly bacteria supplement, from the UK & Ireland's most trusted and recommended friendly bacteria brand*. Providing a guaranteed 75 billion live microorganisms, this advanced option also contains some of the world's most researched strains, including Lactobacillus acidophilus NCFM®, though to be the most well-researched strain of acidophilus worldwide. This advanced supplement also contains Bifidobacterium lactis HN019, and Bifidobacterium lactis Bl-04, which have both been extensively reached in numerous clinical trials. All three strains have been scientifically proven to pass through stomach acidity and reach the gut alive. 
Recommended for daily use, this product provides live bacteria suited to both the small intestine (Lactobacillus species) and large intestine (Bifidobacterium species), and has been formulated to complement the flora naturally present in your gut.
Optibac Every Day MAX is suitable for vegans, vegetarians and women during pregnancy, and is also gluten free, yeast free, soy free & GMO free. Contains no dairy, added sugars, artificial colours, flavours, preservatives, chemicals or parabens. 
Each pack contains 30 capsules. Serving size: 1 capsule a day. Optibac uses only the highest quality friendly bacteria strains, all tested to ensure potency at the end of shelf life. 
Easy to take on the go, Optibac Every Day MAX does not require refrigeration prior to opening. 
We recommend refrigerating after opening, keeping the lid screwed tightly shut and ensuring the desiccant packet remains in the jar.
There are no reviews for this product.
Leave a review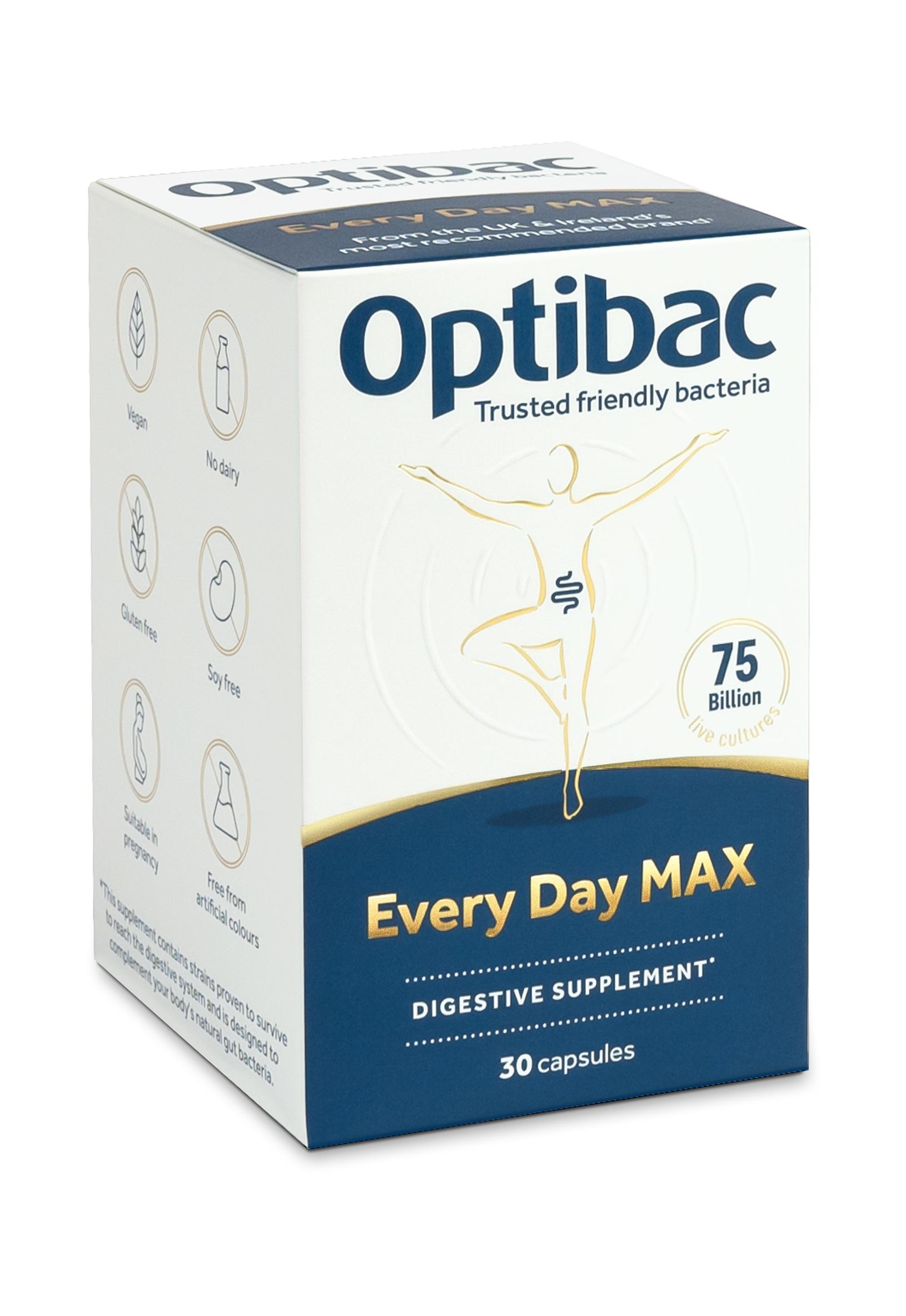 OptiBac Probiotics For every day MAX, Pack of 30 capsules
Recommend to a friend
The details
Ingredients

Ingredients per capsule: 75 billion live cultures. Live cultures: Lactobacillus acidophilus NCFM®, Bifidobacterium lactis Bl-04®, Bifidobacterium lactis HN019; vegetarian capsule: Hydroxypropyl methylcellulose; stabiliser: microcrystalline cellulose; anti-caking agents: vegetable magnesium stearate, silicon dioxide.

Dosage

Recommended Use: Take 1 capsule daily, preferably with breakfast. Intake can be increased to 2 capsules a day if desired, or professionally directed. Can be used on an ongoing basis. Suitable from 4 years onwards. For those unable to swallow capsules, open and mix contents with cold drink/food.

Safety & Warnings

Do not exceed recommended daily dosage. This is a food supplement and is not intended to diagnose, treat, cure or prevent any disease. Food supplements should not be used as a substitute for a healthy lifestyle and varied diet. Live cultures are not recommended for those with serious medical conditions. If you are taking any medications or have a serious medical condition, consult a doctor before use. Keep out of reach of children. Optibac supplements will not cause dependency and may be used on an ongoing basis.
Delivery & Returns
Learn how to edit the text in this section by looking at your theme's notes section.