OptiBac
OptiBac Probiotics For babies & children
Optibac Babies & Children has been created especially for kids and is well-loved by parents and children alike. Our brand-new formulation contains three well-researched strains of natural friendly bacteria: Lactobacillus rhamnosus GG®, thought to be the most scientifically studied strain of friendly bacteria in the world, Bifidobacterium breve M-16V®, and L. rhamnosus HN001. 
What's more, Babies & Children now contains vitamin D3, the most desired added ingredient by surveyed parents, to help maintain immune health. 70% of the immune system is in the gut, making this the perfect support for your little ones. Suggested for daily use, each sachet provides 3 billion live microorganisms, 2.5mcg of vitamin D3, and 0.5g of FOS fibres (Fructooligosaccharides) to increase natural gut bacteria, guaranteed until end of expiry. These strains have been clinically trialled in babies and school-age children and proven to survive to reach the gut alive, where the live cultures strains will complement the natural gut bacteria.
It is free from sugars, artificial flavours and colourings which can be found in other children's supplements and foods containing live cultures. Optibac Babies & Children is suitable for use from birth to 12 years old. It is also suitable for vegetarians and is dairy and gluten free. 
Each pack contains 10 sachets.
There are no reviews for this product.
Leave a review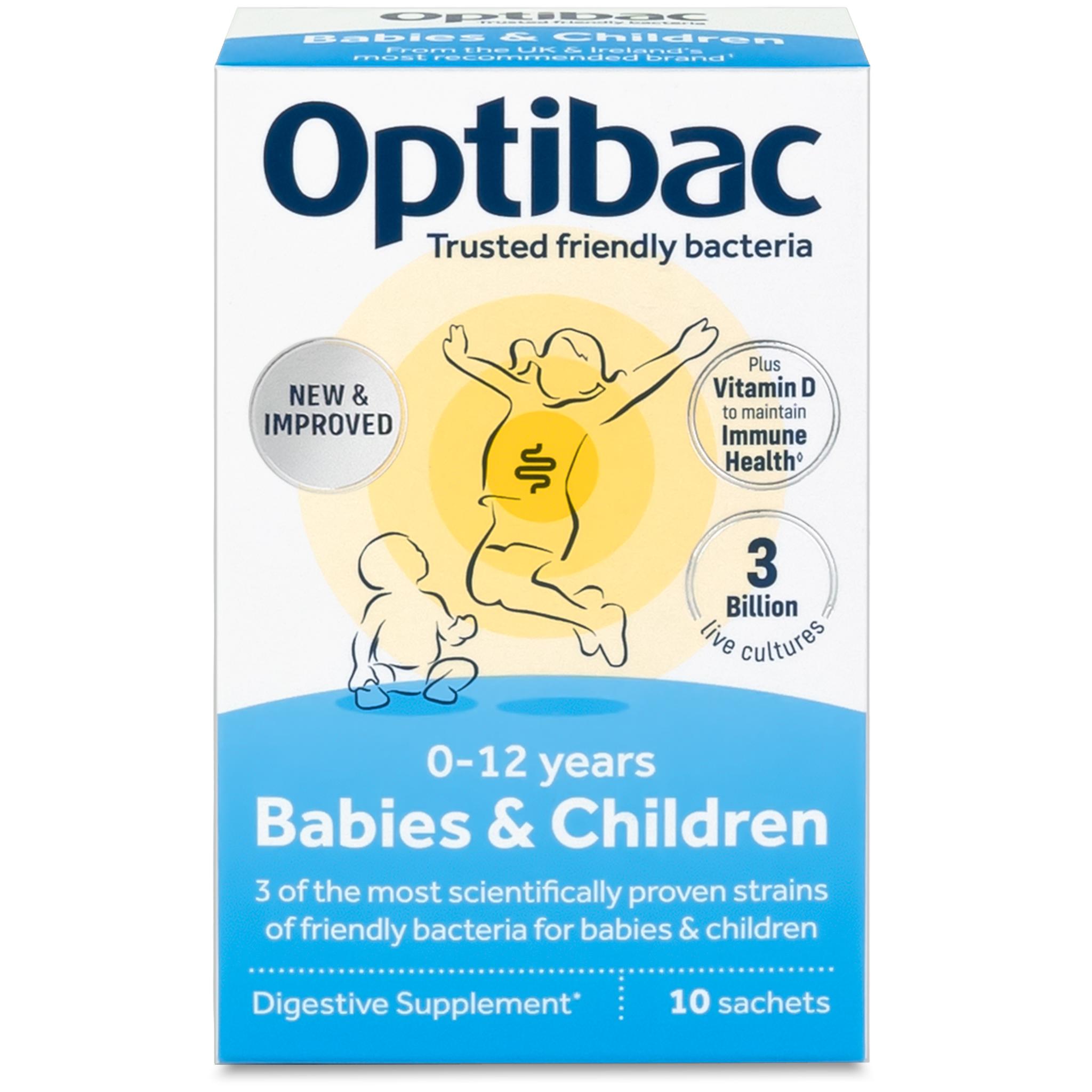 OptiBac Probiotics For babies & children
Recommend to a friend
The details
Ingredients

Maltodextrin; Fructooligosaccharides (0.5g); Live cultures: Lactobacillus rhamnosus GG®, Bifidobacterium breve M-16V®, Lactobacillus rhamnosus HN001 (3 billion); vitamin D (2.5mcg/100IU, 50% NRV).

Dosage

Give 1 sachet daily, preferably with breakfast or first feed of the day. If desired or professionally directed, can be increased to 2 sachets a day (from 12 months+) Mixing Instructions: Can easily be mixed with your child's favourite cool food or drink.

Safety & Warnings

Do not exceed recommended daily dosage. This is a food supplement and is not intended to diagnose, treat, cure or prevent any disease. Food supplements should not be used as a substitute for a healthy lifestyle and varied diet. Live cultures are not recommended for those with serious medical conditions. If you are taking any medications or have a serious medical condition, consult a doctor before use. Keep out of reach of children. Optibac supplements will not cause dependency and may be used on an ongoing basis.
Delivery & Returns
Learn how to edit the text in this section by looking at your theme's notes section.