Pharma Nord
OMEGA 7 SBA24
Omega 7 is a nutritional supplement that is produced using the berry and seed of the Sea buckthorn plant. This shrub, originating from the Himalayas, is rich in Omega 7 fatty acid, including palmitoleic acid and vaccenic acid. The vitamin A that is found in Omega 7 contributes to the maintenance of normal skin, vision and mucous membranes.
There are only a few plant species that are good sources of these essential PUFAs. In addition to the omega-7 PUFAs, sea buckthorn oil is a great source of the PUFAs alpha-linolenic acid (omega-3 type), linoleic acid (omega-6 type), and oleic acid (omega-9 type), as well as containing high levels of antioxidants (tocopherols, tocotrienols, carotenoids plant sterols and vitamin C).
That is why it's beneficial for thousands of people across the UK for dry eyes, dry mouth and intimate dryness, meaning 98% of customers would recommend Omega 7 Sea buckthorn oil.
Our astonishing feedback came from over 4232 respondents to a recent survey regarding Omega 7 benefits. Over 92% found that Omega 7 SBA24 worked in 6 weeks or less. That's high praise indeed for a natural product!
There are no reviews for this product.
Leave a review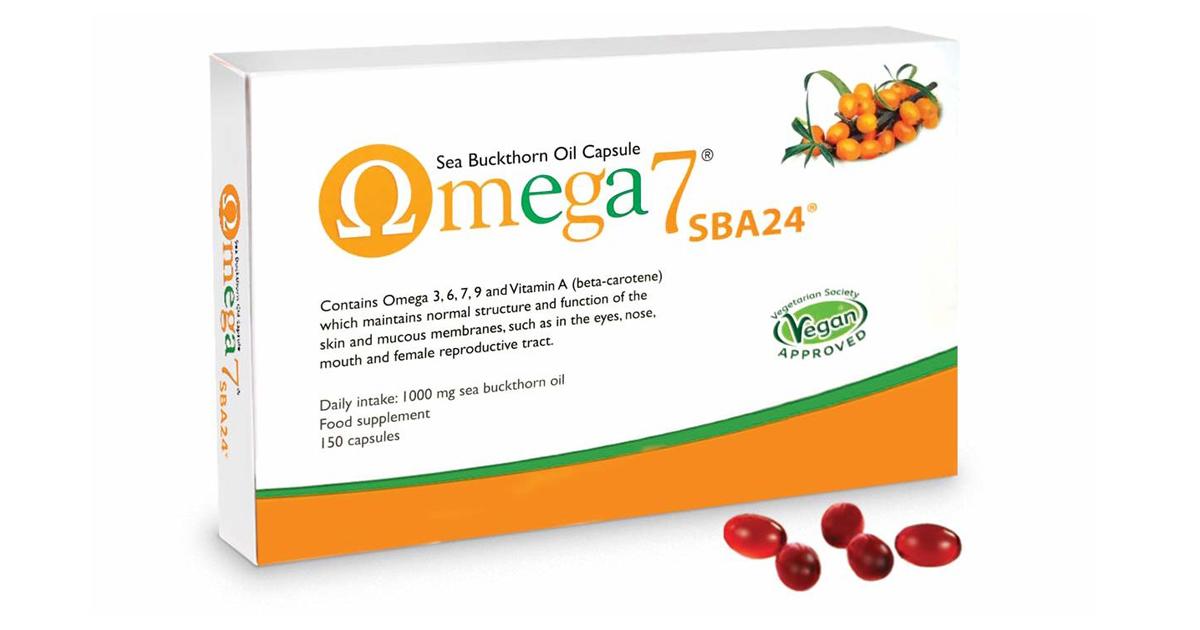 OMEGA 7 SBA24
Recommend to a friend
The details
Ingredients

Sea buckthorn oil SBA24 (sea buckthorn oil from seeds and soft parts; antioxidants: rosemary extract, alpha tocopherol; beta-carotene) 72.5%. 

Capsule shell: Modified maize starch, glycerol, gelling agent: carrageenan, acidity regulator: disodium phosphate. *manufactured by gental processing CO2 extraction.

Dosage

2 capsules twice a day with food and drink for the first two weeks, 1 capsule twice a day thereafter. 

Safety & Warnings

Do not exceed recommended amount.
Pregnant and lactating women and those on medication should seek professional advice prior to taking supplements.


Delivery & Returns
Learn how to edit the text in this section by looking at your theme's notes section.