Better You
Magnesium Sleep Body Lotion
BetterYou Magnesium Sleep Lotion delivers an expertly blended combination of magnesium chloride and essential oils of lavender and chamomile. 5ml delivers 120mg (34% NRV) magnesium. A natural aid to better sleep. Absorbs rapidly into the skin, helping prepare the body for sleep.Naturally relaxes tired muscles. Lavender and chamomile help slow sensory activity and quieten the mind.
There are no reviews for this product.
Leave a review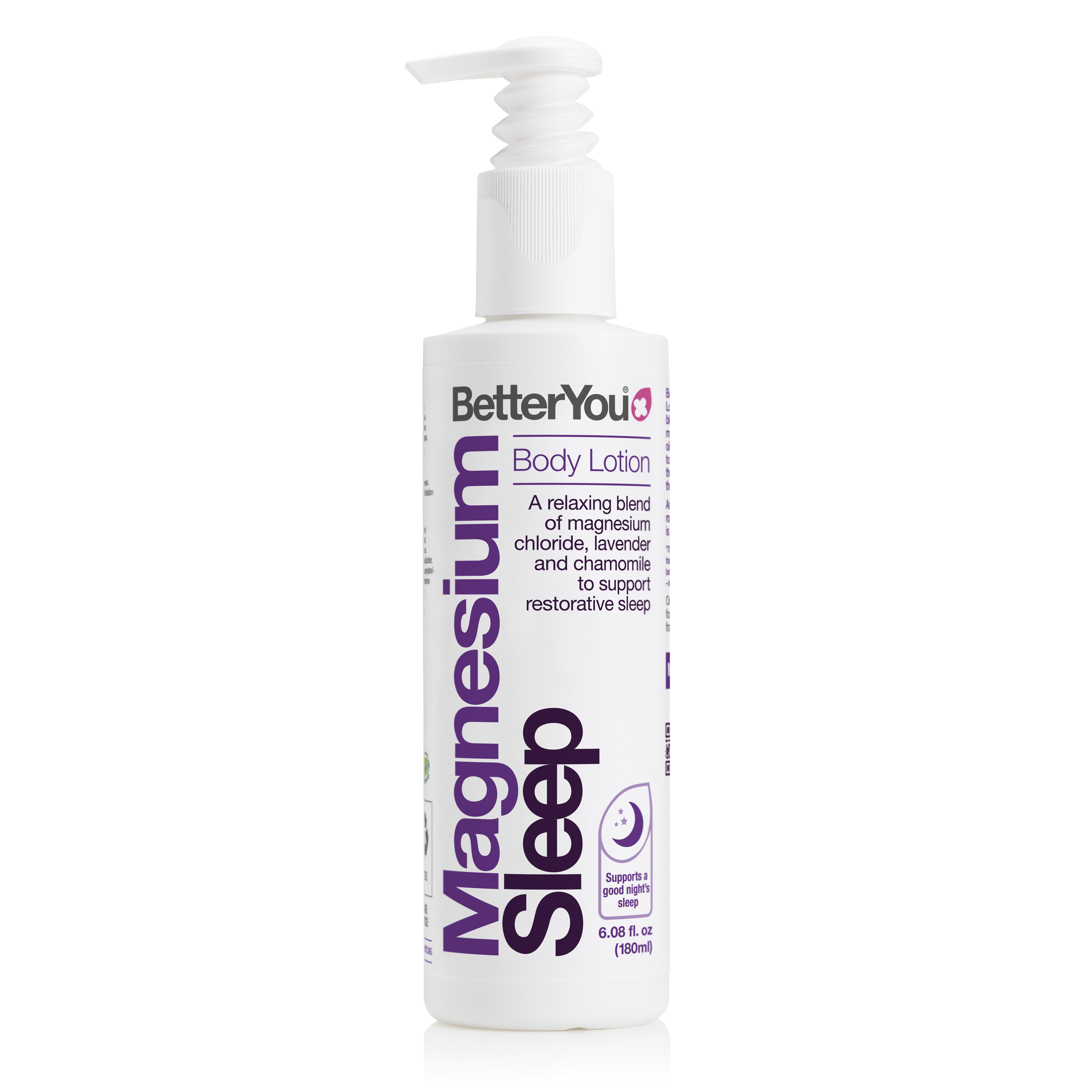 Magnesium Sleep Body Lotion
Recommend to a friend
The details
Ingredients

How to use For optimal results, use as a part of your bedtime routine for a minimum of 4 weeks. Gently massage 5ml of the lotion onto clean, dry skin up to 30 minutes before sleep. After a shower or bath is a great time to apply as the skin is warm and the pores are open which aids absorption. Suitable for use all over the body. Focus on areas such as the neck, shoulders and legs. Reapply whenever needed. Dosage 5ml of Magnesium Sleep Lotion delivers a minimum of 120mg of optimally absorbable elemental magnesium. Storage Once opened, store at room temperature and out of direct sunlight. Keep out of children?s reach. Advisory information For external use only; Avoid contact with eyes; Do not use on damaged or broken skin. Supplements should not replace a healthy diet and exercise. The Magnesium Tingle On initial application you may experience a slight tingling sensation. This may indicate low magnesium levels and is the result of the high speed absorption of magnesium through the pores. This will pass with regular use and as absorption commences immediately, skin can be towelled off after massaging in.

Dosage

Suitable for: Adults Vegans and vegetarians Use during pregnancy and breastfeeding. We recommend consulting your Midwife or GP before beginning any supplementation. No known contraindications with prescribed medications.

Safety & Warnings

Aqua (water), magnesium chloride, glyceryl stearate citrate, caprylic/capric triglyceride, glycerin, glyceryl stearate SE, C9-12 alkane, beheneth-25, butyrospermum parkii (shea) butter, benzyl alcohol, sodium benzoate, coco-caprylate/ - caprate, polyurethane-62, anthemis nobilis flower oil, lavandula angustifolia (lavender) oil, tocopherol, dehydroacetic acid, linalool, trideceth-6, sodium hydroxide, geraniol.
Delivery & Returns
Learn how to edit the text in this section by looking at your theme's notes section.