MycoNutri Organic
Is Complex - 60 capsules
MycoNutri Organic IS Complex combines organic hot-water extracts of four mushrooms rich in beta-glucans and related polysaccharides (Maitake, Reishi, Chaga and Shiitake) with organic Ophiocordyceps sinensis (Cordyceps) mycelial biomass, organic Matcha Green Tea and vitamin-C rich organic Acerola.
Vitamin C and green tea have both been shown to reinforce the benefits of mushroom beta-glucans while Cordyceps' nucleoside derivatives and the triterpenoid compounds from Chaga (betulinic acid derivatives) and Reishi (ganoderic and lucidenic acids) contribute to this combination's all-round immune support.
There are no reviews for this product.
Leave a review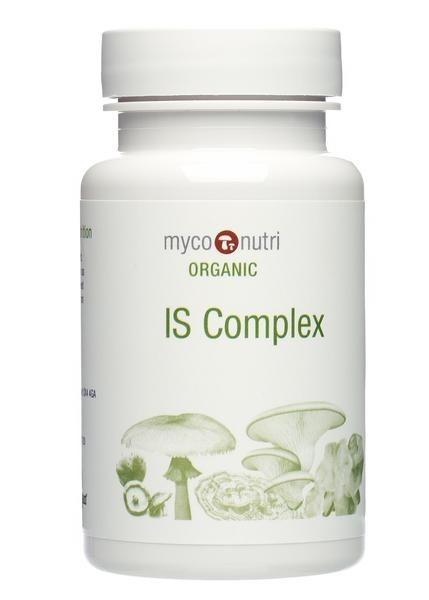 Is Complex - 60 capsules
Recommend to a friend
The details
Ingredients

Organic Ophicordyceps sinensis mycelian biomass, organic Ganoderma lucidum dual extract, organic Inonotus obliquus dual extract, organic Grifola frondosa hot-water extract, organic Lentinula edodes hot-water extract, organic Matchs green tea, organic Acerola.

Dosage

2 capsules, 1-3 times a day as a dietary supplement

Safety & Warnings

Store in a cool, dry place out of direct sunlight. Keep out of reach of children. Not to be taken as an alternative to a balanced diet. Do not exceed recommended daily dose. Seek advise from a health professional if pregnant or nursing.
Delivery & Returns
Learn how to edit the text in this section by looking at your theme's notes section.