Pharma Nord
Iodine 400ug - 120 capsules
Iodine is an essential trace element needed for various processes in the body. We can find it in foods such as meats, dairy & cereals - though UK agricultural soils (and therefore our locally produced foods), may not contain enough.
Optimum iodine status is essential for our metabolism, which governs many processes in the body, including energy-producing metabolism. Iodine also contributes to cognitive functions, nervous function and skin.
Iodine is used primarily by the thyroid, which is a small gland located in the neck. The thyroid gland's main role in the body is to regulate our metabolic rate. Specifically, the thyroid uses iodine to produce thyroid gland hormones known as T3 ( triiodothyronine) and T4 (thyroxine). If the body doesn't have enough iodine, the production of these hormones can be adversely affected. 
Pure iodine wouldn't absorb well in the body. Instead, iodine supplements come in different forms (such as salts) that allow them to absorb better.
Iodine 400 µg from Pharma Nord uses the potassium iodate form, rather than the more commonly used potassium iodide. Potassium iodate effectively delivers iodine to the body but is considered more stable with a longer shelf life.
- Contributes to the normal formation of thyroid gland hormones and contributes to normal thyroid gland function.

- Contributes to normal cognitive function

- Participates in normal energy-yielding metabolism

- Contributes to the normal functioning of the nervous system

- Contributes to the maintenance of normal skin
There are no reviews for this product.
Leave a review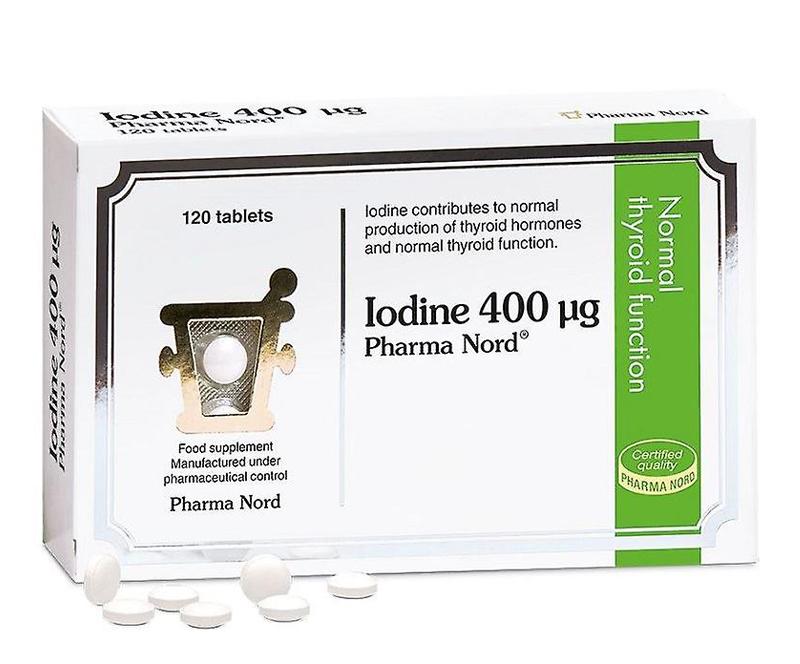 Iodine 400ug - 120 capsules
Recommend to a friend
The details
Ingredients

Bulking agent: Microcrystalline cellulose, Potassium Iodate, Glucose monohydrate, Bulking agent: Hydroxypropyl methylcellulose, Anti-caking agents: Magnesium salts of fatty acids, Silicon dioxide. 

Dosage

1 tablet daily, or as directed by a health professional. 

Safety & Warnings

Do not exceed recommended amount. To be taken with food. Pregnant and lactating women and those on medication should seek professional advice prior to taking supplements. Nutritional supplements should not be used as a substitute for a varied diet and a healthy lifestyle. 
Delivery & Returns
Learn how to edit the text in this section by looking at your theme's notes section.