The Wellness Practitioner
ICF-2 - A Dr. Schulze's Herbal Formula (100 capsules)
This formulation is part two of a two-part step, based on a popular product that has a great reputation for cleansing the bowel and encouraging a regular bowel movement!
What are the benefits of the ICF2 - A Dr. Schulze's Herbal Formula?
Individually, the different ingredients are helpful for supporting many health conditions, but all of them together offer a powerful way to cleanse the bowel. This is part two of a two-part bowel cleansing formula.
This formula is based on Dr. Schulze's Herbal Formula which helps to promote healthy and complete regular bowel movements.
The Wellness Practitioner ICF2 - A Dr. Schulze's Herbal Formula can be taken for short periods of time when looking to support bowel health and also when occasional constipation occurs. 
What is the ICF2 - A Dr. Schulze's Herbal Formula?
The ICF2 - A Dr. Schulze's Herbal Formula capsules contains the following ingredients that are all thought to support bowel health: Aloe ferox resin pulv, Senna alexandrina fol pulv, Senna alexandrina fruct pulv, Rhamnus purshiana cort pulv, Berberis vulgaris cort pulv, Allium sativum pulv, Capsicum frutescens fruct pulv, Zingiber officinale rad pulv.
One of the main ingredients, Aloe ferox resin pulv, is popular as a natural laxative and may be able to soothe inflammation.
Another key ingredient is Senna alexandrina fol pulv, has been popular amongst herbalists for decades as an effective laxative with it often being given to treat constipation and haemorrhoids. 
Who could benefit from taking this ICF2 - A Dr. Schulze's Herbal Formula?
People looking to complete the bowel cleansing process started with part one of this two-step series (ICF1), and encourage healthy regular bowel movements. The information provided on this herbal formula is based on traditional use only.
There are no reviews for this product.
Leave a review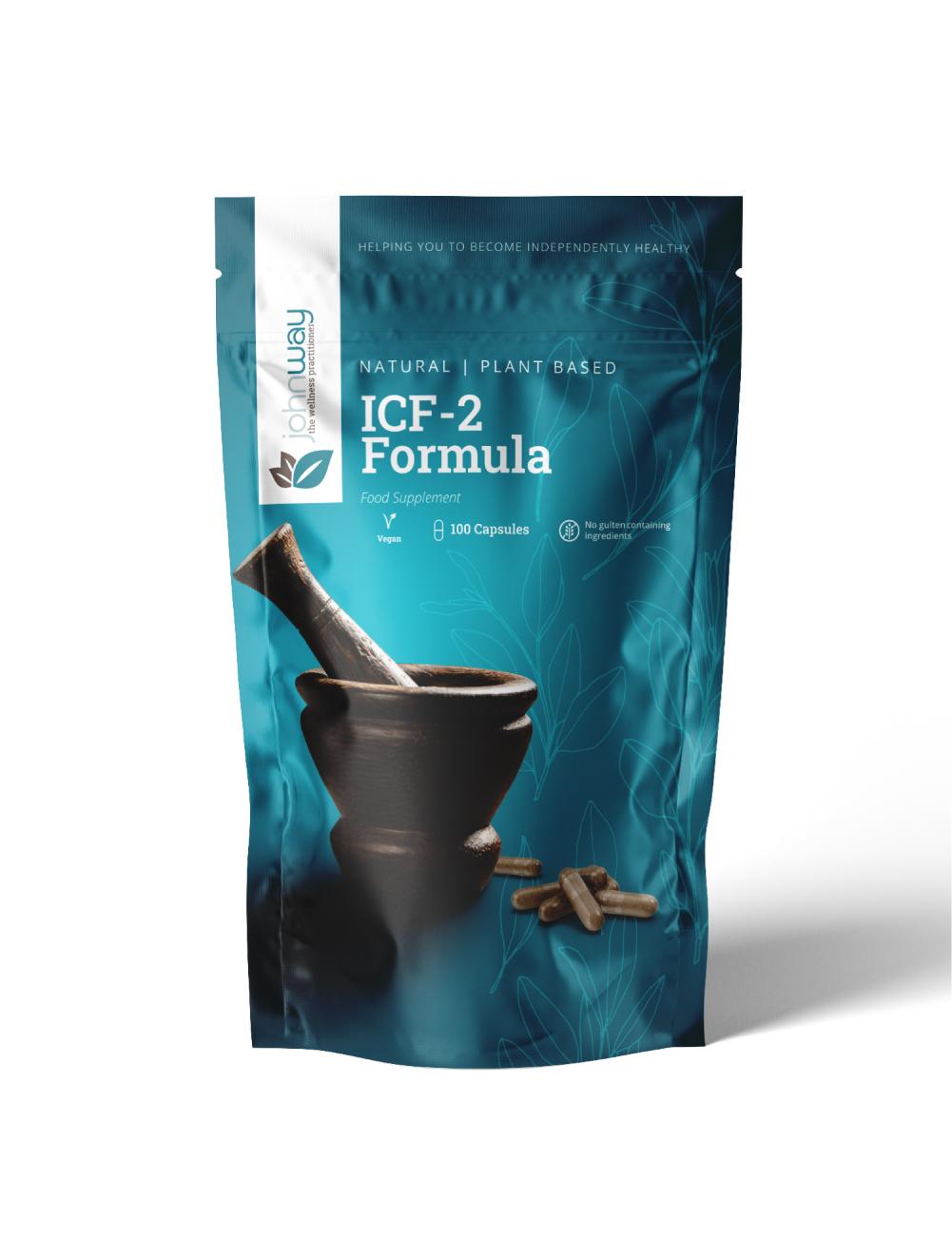 ICF-2 - A Dr. Schulze's Herbal Formula (100 capsules)
Recommend to a friend
The details
Ingredients

Aloeferox resin pulv., Senna alexandrina, Rhamnus purshiana, Berberis vulgaris, Allium sativum, Capsicum annum fructus, Zingiber officinale; HPMC capsules. 

Dosage

1-2 capsules, 1-3 times a day before a meal, or as directed by your health practitioner. 

Safety & Warnings

Do not exceed stated recommended dose. A food supplement should not be used as a substitute for a varied diet. Store in a cool place, out of reach and sight of children. If you are pregnant, breastfeeding, have a medical condition or are taking any other medication, please consult a medical professional before use.  
Delivery & Returns
Learn how to edit the text in this section by looking at your theme's notes section.