Nutri Advanced
Eskimo-3 Brainsharp Fish Oil - 120 capsules
The ideal choice for anyone wishing to support brain health; Eskimo®-3 Brainsharp utilises the same high quality fish oil used in the original Eskimo®-3 formulas, but has been combined with specific, active ingredients to help support mental performance. Comprising over 90% of the omega-3 fatty acids in your brain, DHA has been shown to improve learning, mood, memory and concentration, making it especially beneficial for students taking exams, and older adults.
There are no reviews for this product.
Leave a review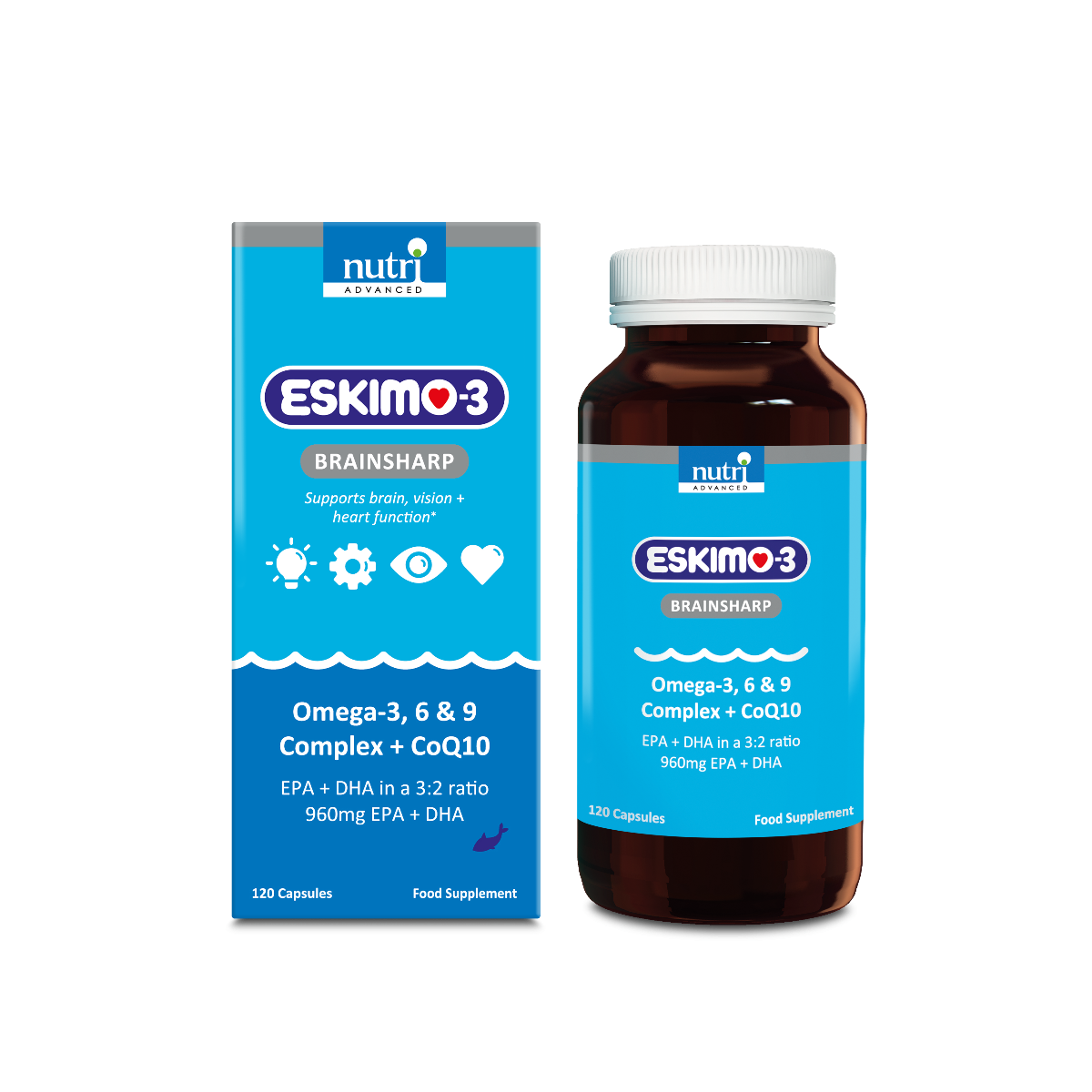 Eskimo-3 Brainsharp Fish Oil - 120 capsules
Recommend to a friend
The details
Ingredients

Omega-3 fatty acids 1360mg, eicosapentaenoic acid (EPA) 640mg, Docosahexaenoic acid (DHA) 320mg, Alpha-linolenic acid (ALA) 80mg, Omega-6 fatty acids from evening primrose oil, Linoleic acid (LA) 400mg, Gamma-linolenic acid (GLA) 60mg, Omega-09 fatty acids (oleic acid) 560mg, Vit D (175iu) 4.5µg, Vit E (13.5iu) 9mg, Coenzyme Q10 (ubiquinone) 8mg. 

Dosage

2 capsules twice daily with food, or as directed. Children 4-12: 1-2 capsules daily.

Safety & Warnings

Do not exceed stated dose. Not recommended for haemophiliacs. Consult a medical doctor if on anti-coagulants medication. Store out of reach of children. This is a food supplement and should not be used as a substitute for a varied diet and healthy lifestyle.
Delivery & Returns
Learn how to edit the text in this section by looking at your theme's notes section.