Better You
D400 Infant Vitamin D Oral Spray
BetterYou D400 Infant Vitamin D Oral Spray is gentle formulation of coconut oil and vitamin D, specially formulated for children under 3 years of age. Each spray delivers 400IU (10_g) of vitamin D3 to support your baby's development.
There are no reviews for this product.
Leave a review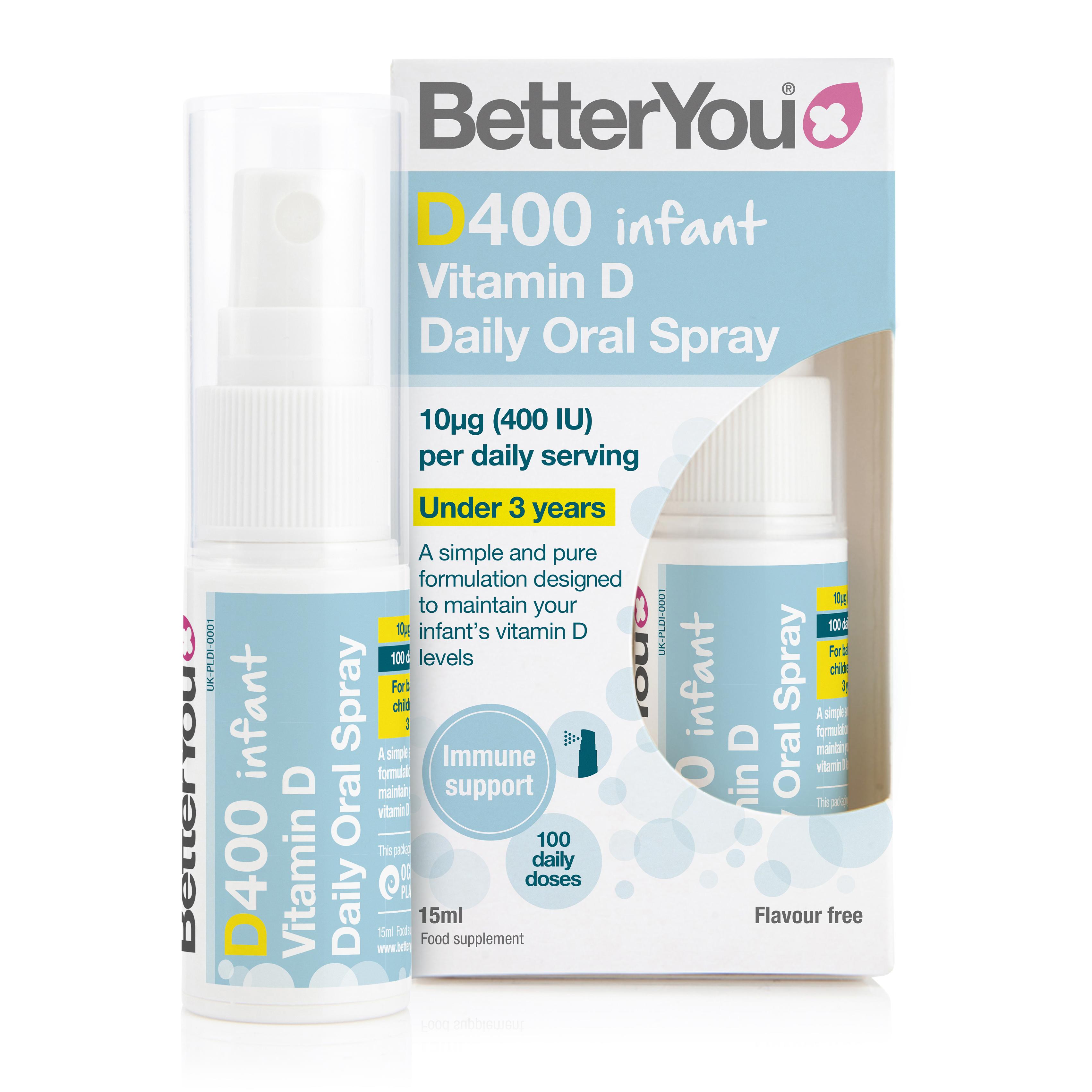 D400 Infant Vitamin D Oral Spray
Recommend to a friend
The details
Ingredients

Coconut oil, cholecalciferol (vitamin D3).

Dosage

How to use Initial use: press the pump 3 times to get the liquid flowing. Shake well before every use. Carefully spray into your mouth, ideally onto the inside of your cheek, and hold for a few seconds. Replace the cap after use. Dosage 1 spray delivers 400IU of vitamin D. Use 1 spray a day (or as directed by your healthcare practitioner). Does not need to be taken with food or water, can be taken at any time of the day and combined with our other oral sprays. Storage Once opened, use within 6 months. Store at room temperature and out of direct sunlight. Keep out of reach and sight of children. Advisory information Food supplements should not be used as a substitute for a varied diet and healthy lifestyle.

Safety & Warnings

Suitable for: Babies and children under 3 years old Vegetarians Those following a gluten free diet For children over 3, please consider D400 Junior No known contraindications with prescribed medications.
Delivery & Returns
Learn how to edit the text in this section by looking at your theme's notes section.