The Wellness Practitioner
Complete Tissue & Bone Herbal Formula (100 capsules)
Support bone, flesh and cartilage health naturally!
What are the benefits of the Complete Tissue and Bone Herbal Formula?
Individually, the different ingredients are helpful for supporting many health conditions, but all of them together offer a powerful way to support bone, flesh and cartilage health.
This formula is inspired by Dr. John R. Christopher's blend of the same name, but without comphrey.
Signs these parts of the body need support include feeling aches and pains in the bones and areas where there is cartilage and having skin outbreaks and/or rashes.
Lifestyle and diet choices can also impact health in these areas, and when a focus is made to make healthier choices then the natural ageing process here will be slowed down. 
The Wellness Practitioner Complete Tissue and Bone Herbal Formula can be taken for short periods of time, when needing to support the structural parts of the body such as bones, cartilage and skin.
What is the Complete Tissue and Bone Herbal Formula?
The Complete Tissue and Bone Herbal Formula contains the following ingredients that are all thought to support body tissue and bone health: White oak bark, Lungwort, Marshmallow root, Mullein leaf, Black walnut leaf, Gravel root, Slippery elm bark, Wormwood herb, Plantain leaves, Lobelia herb, Skullcap herb & Aloe vera 100:1.
One of the main ingredients, white oak bark, is popular amongst herbalists for its traditional use in supporting joint health.
Another key ingredient is Lungwort, which has shown in some studies to possibly be beneficial to smooth muscle, which is present in the urinary tract, the iris, the prostate, and the gall bladder and intestines.
Who could benefit from taking this Complete Tissue and Bone Herbal Formula?
People looking for a herbal supplement to support bone, joint and tissue health. The information provided on this herbal formula is based on traditional use only.
There are no reviews for this product.
Leave a review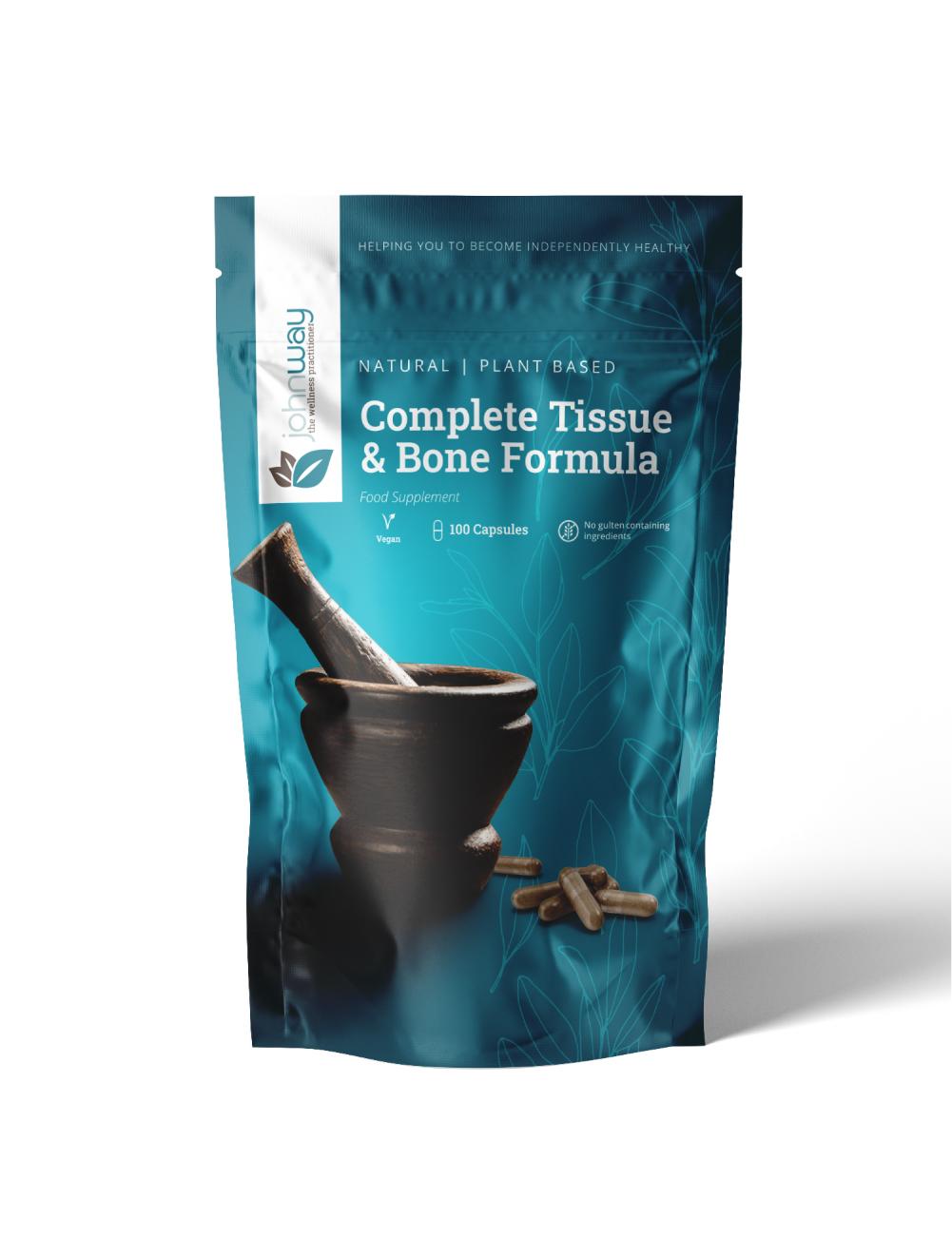 Complete Tissue & Bone Herbal Formula (100 capsules)
Recommend to a friend
The details
Ingredients

Quercus alba, Althea radix, Verbascum thapsus, juglans nigra, Euphatorium perfoliatum, Artemisia absinthium, lobelia inflata, Scutellaria lateriflora, Pulmonaria officialis, Ulmus rubra, Aloe Barbadensis 100:1; HPMC capsules 

Dosage

1-2 capsules, 1-3 times a day before meals, or as directed by your health practitioner. 

Safety & Warnings

Do not exceed stated recommended dose. A food supplement should not be used as a substitute for a varied diet. Store in a cool place, out of reach and sight of children. If you are pregnant, breastfeeding, have a medical condition or are taking any other medication, please consult a medical professional 
Delivery & Returns
Learn how to edit the text in this section by looking at your theme's notes section.