The Wellness Practitioner
C&H Herbal Formula (Historically Known as Circulation & Heart Formula) (100 Capsules)
Support healthy cholesterol levels and circulation naturally!
What are the benefits of the C&H Herbal Formula (Historically Known as Circulation & Heart Formula)?
Individually, the different ingredients are helpful for supporting many health conditions, but all of them together offer a powerful way to help keep cholesterol levels within the healthy range. 
The Wellness Practitioner C&H Herbal Formula can be taken for short periods of time when needing to keep cholesterol levels healthy.
What is C&H Herbal Formula?
C&H Herbal Formula contains the following ingredients that are all thought to contribute to the maintenance of healthy cholesterol levels in their respective ways: Red rice yeast, Hawthorn, CoEnzyme Q10, Black pepper, Folic acid, Vitamin B12 and Vitamin B6.
One of the main ingredients, Red yeast rice, contains plant sterols (β-sitosterol, Campesterol, Stigmasterol, and Sapogenin) and Lovastatin, which have been found to be very effective in lowering cholesterol to the normal ranges.
Another key ingredient is CoEnzyme Q10 (CoQ10), also known as Ubiquinone and Ubidecarenone, which is a vitamin-like substance that is naturally produced by the body. This substance helps the body in many ways, including improving heart health and producing ATP (which plays a role in ensuring energy is divided amongst all the cells in the body).
Who could benefit from taking this C&H Herbal Formula?
Anyone who has been told their cholesterol levels has gone outside the optimal range and needs support to bring it within the healthy/optimal range. It can also be of support to people looking to support the cardiovascular and circulatory systems. The information provided on this herbal and vitamin formula is based on traditional use only. 
There are no reviews for this product.
Leave a review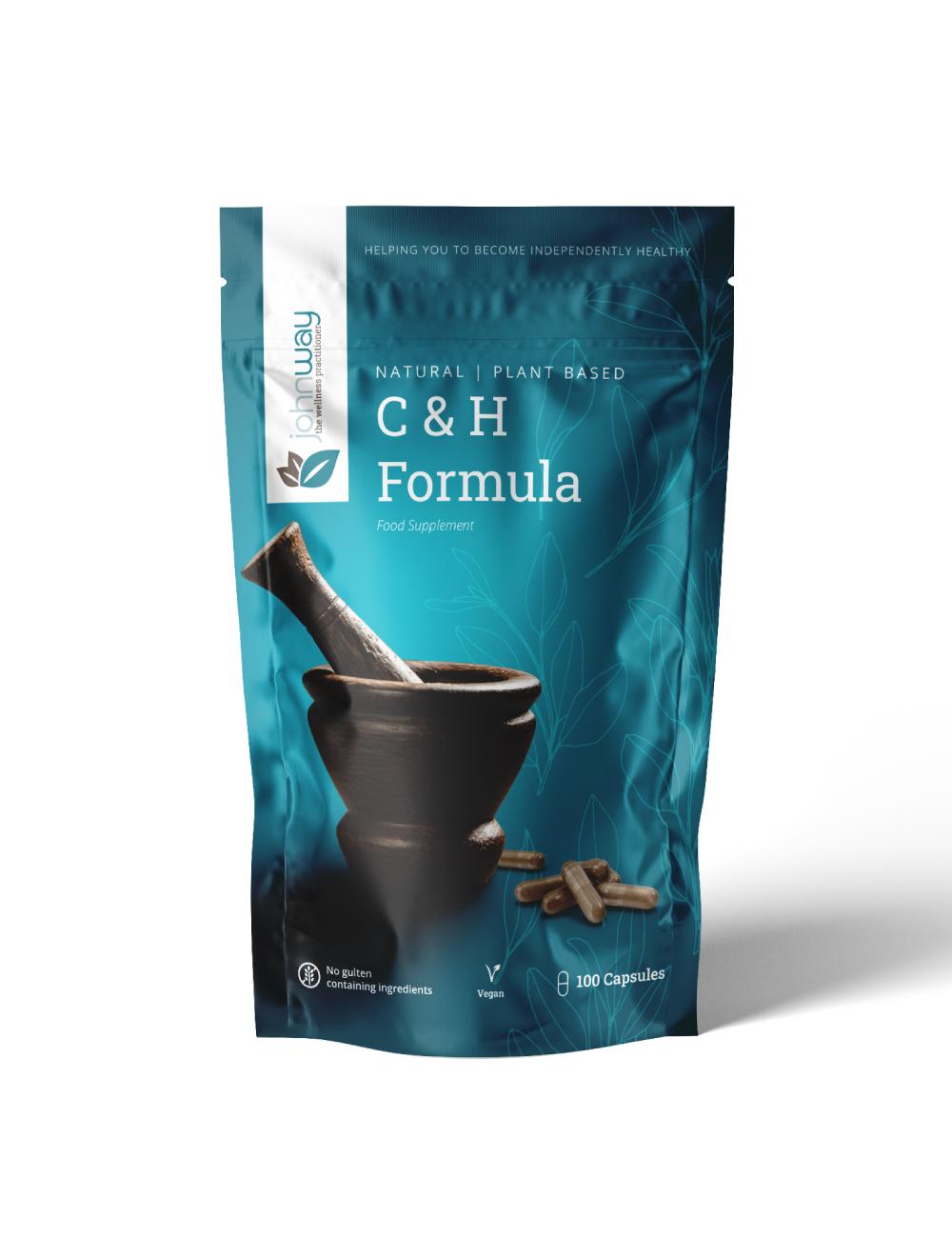 C&H Herbal Formula (Historically Known as Circulation & Heart Formula) (100 Capsules)
Recommend to a friend
The details
Ingredients

Monascus purpureus 400mg, Crataegus laevigata 90mg, CoEQ10 10mg, Piperine Extract 1mg, Folic Acid 400mcg, Vitamin B12 400mcg, Vitamin B6 5mg; HPMC capsule.

Dosage

2 capsules twice a day for 12 weeks, reducing to 1 capsule twice a day or as directed by health practitioner. 

Safety & Warnings

Do not exceed stated recommended dose. A food supplement should not be used as a substitute for a varied diet. Store in a cool place, out of reach and sight of children. If you are pregnant, breastfeeding, have a medical condition or are taking any other medication, please consult a medical professional before use. 
Delivery & Returns
Learn how to edit the text in this section by looking at your theme's notes section.