Pharma Nord
Bio-Quintone (Coenzyme Q10) Gold 100mg
Ubiquinone CoQ10 is Pharma Nord's Bio-Quinone Active Q10 capsule, containing coenzyme Q10 in the form of ubiquinone in its natural identical form. This unique preparation delivers coenzyme Q10 in the active formula that is present in over 90 scientific studies to provide a consistently high level of bioavailability.
Coenzyme Q10 is essential for the normal functioning of all tissues due to its role in the cellular energy production process. Both heart and skeletal muscles have the highest energy requirements of all bodily tissues, and are particularly reliant on adequate Q10 as a result.
Pharma Nord has spent more than 25 years developing and optimizing Bio-Quinone Q10 for the sole purpose of producing a coenzyme Q10 preparation which scientifically can document its superior bioavailability and quality - thereby earning its status as the reference product for scientific studies.
Pharma Nord's Q10 is the reference product for the International Coenzyme Q10 Association
The International Coenzyme Q10 Association (ICQA) is the leading association for Coenzyme Q10 research worldwide. The ICQA's mission is to promote basic and applied research into the preventive and therapeutic effects of Coenzyme Q10 supplementation and adjuvant therapy. The ICQA conferences are an important venue for the dissemination of the outcomes of research into the effects of Coenzyme Q10 on cellular bio-energetics, antioxidant defense, endothelial function, and inflammation.
There are no reviews for this product.
Leave a review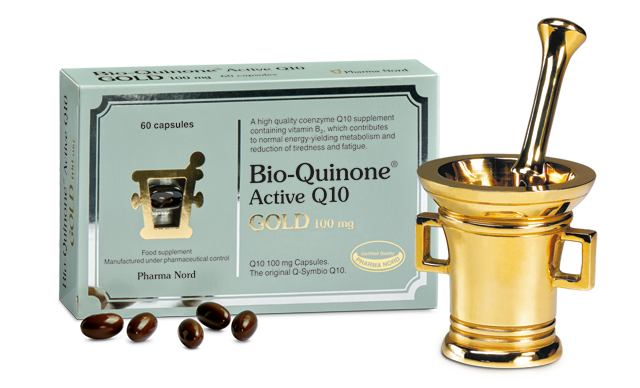 Bio-Quintone (Coenzyme Q10) Gold 100mg
Recommend to a friend
The details
Ingredients

Bulking agent: Soybean oil
Capsule shell: Bovine Gelatine
Humectants: Glycerol, purified water
Co-enzyme Q10
Antioxidant: D-alpha-tocopherol
Colour: Iron oxide, Riboflavin
Vitamin: B2 (Riboflavin)

Dosage

1-2 capsules per day or as recommended by a physician. To be taken with food.
Do not exceed recommended amount.

Safety & Warnings

Pregnant and lactating women and those on medication should seek professional advice prior to taking supplements. Nutritional supplements should not be used as a substitute for a varied diet and a healthy lifestyle. Store at room temperature out of direct sunlight. Keep out of reach of children.
Delivery & Returns
Learn how to edit the text in this section by looking at your theme's notes section.