Pharma Nord
Bio-quinone (Q10) Green 100mg - 60 capsules
Q10  Green 100 mg is Pharma Nord's vegan friendly Q10 capsule containing ubiquinone in its natural form. This unique preparation delivers coenzyme Q10 in the active formula that is present in over 90 scientific studies to provide a consistently high level of bioavailability.
Q10 Green Bio-Quinone is our prestigious Bio-Quinone product in new vegan-approved capsules. Developed with care, Phytocaps™ are a new generation of 100% plant-based softgel capsules. Being truly plant based Q10 Green is compliant with many diets including vegetarian, vegan, halal and kosher.
Coenzyme Q10 is essential for the normal functioning of all tissues due to its role in the cellular energy production process. Both heart and skeletal muscles have the highest energy requirements of all bodily tissues, and are particularly reliant on adequate Q10 as a result.
We have spent more than 25 years developing and optimizing Bio-Quinone Q10 Vegan for the sole purpose of producing a coenzyme Q10 preparation which scientifically can document its superior bioavailability and quality.
There are no reviews for this product.
Leave a review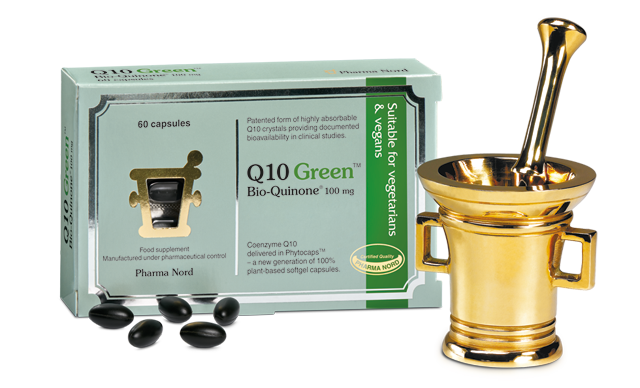 Bio-quinone (Q10) Green 100mg - 60 capsules
Recommend to a friend
The details
Ingredients

Mixture of Soybean oil*
Co-enzyme Q10
Glazing agent: Hydroxypropyl starch
Humectants: Glycerol
Stabilizers: Agar, Carrageenan, Pectin (apple)
Purified water
Cocoa Powder, fat-reduced
Humectant: Sorbitol
Green tea powder
Red beet powder
Antioxidant: Vitamin E (d-a-tocopherol)
Colour: Riboflavin

*Does not contain estrogenic substances.

Dosage

1-3 capsule per day or as recommended by a physician.
Do not exceed recommended amount.
To be taken with food.

Safety & Warnings

Pregnant and lactating women and those on medication should seek professional advice prior to taking supplements. Nutritional supplements should not be used as a substitute for a varied diet and a healthy lifestyle. Store at room temperature out of direct sunlight. Keep out of reach of children.
Delivery & Returns
Learn how to edit the text in this section by looking at your theme's notes section.