Pharma Nord
Bio-pycnogenol - 60 tablets
Pycnogenol is nature's most versatile supplement, but many people wonder what Pycnogenol is used for. Scientific research shows that there are many Pycnogenol benefits, and the product can help to improve heart health and circulation, joint health, seasonal itchy eyes and runny nose, glucose control, menstrual discomfort, and skin issues!
But, what does Pycnogenol do? Pycnogenol supplements demonstrate antioxidant effects may stimulate the immune system and potentially improve blood flow in research. The following areas of health have been studied in over 40 years of Pycnogenol research: asthma, allergies, blood pressure, diabetes, endometriosis, erectile dysfunction, muscles soreness, and osteoarthritis.
There are no reviews for this product.
Leave a review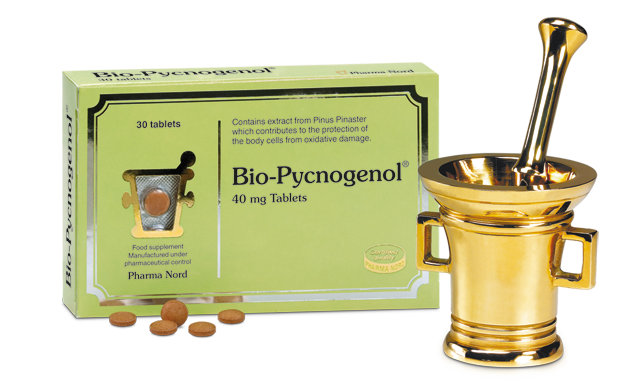 Bio-pycnogenol - 60 tablets
Recommend to a friend
The details
Ingredients

Bulking agent: Microcrystalline cellulose
Anti-caking agent: Maltodextrin
Pycnogenol (Pinus Pinaster extract)
Glazing agent: Hydroxyproryl methylcellulose
Firming agent: Tricalcium phosphate
Anti-caking agent: Magnesium salts of fatty acid

Dosage

2 tablets twice daily for one week, thereafter 1 tablet twice daily or directed by a physician.
To be taken with food.
Do not exceed recommended amount.

Safety & Warnings

Pregnant and lactating women and those on medication should seek professional advice prior to taking supplements. Nutritional supplements should not be used as substitute for a varied diet and healthy lifestyle. Store at room temperature.
Keep out of reach of children.
Delivery & Returns
Learn how to edit the text in this section by looking at your theme's notes section.