Pharma Nord
Bio-Chromium for Blood sugar controm - 60 tablets
Bio-Chromium contributes to the maintenance of normal blood glucose levels and has full EFSA approval. It's ChromoPrecise, cellular bound, organic chromium formula is up to ten times better absorbed than any other form of chromium, used in most other supplements. 
Chromium is a trace mineral that is an important component of the chromodulin molecule (formerly glucose tolerance factor), which together with insulin, regulates carbohydrate metabolism and blood glucose balance. Chromium helps to avoid the 'highs and lows' of hunger patterns which can often lead to cravings and snacking between meals.
There are no reviews for this product.
Leave a review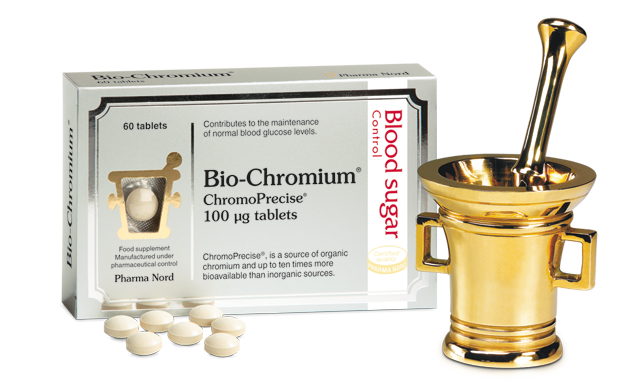 Bio-Chromium for Blood sugar controm - 60 tablets
Recommend to a friend
The details
Ingredients

Mineral: Chromium enriched yeast, Firming agent: Maltodextrin, Bulking agent: Microcrystalline cellulose, Anti-caking agent: Talc, Glazing agent: Hydroxypropyl methylcellulose, Anti-Caking agent: Silicon dioxide, Firming agent: Magnesium salts of fatty acid.

Dosage

1-2 tablets, taken with food a day, or a directed by a health professional.

Safety & Warnings

Pregnant and lactating women and those on medication should seek professional advice prior to taking supplements. Nutritional supplements should not be used as  a substitute for a varied diet and healthy lifestyle. Customers with impaired renal function or insulin dependent diabetes (insulin dosage may need to be adjusted) should take caution when taking a chromium supplement. Do not take if you have an allergy to yeast.
Delivery & Returns
Learn how to edit the text in this section by looking at your theme's notes section.