The Sage Apothecary
Bee Lush Moisturiser – Palmarosa & Geranium - 60ml
Perfect for dry and mature skin types or if you're just wanting a little oomph in the moisture department.
This deeply nourishing and hydrating day cream will help to restore moisture to your skin by attracting water to dry skin tissues. It creates a softening and plumping effect, whilst at the same time helping to smooth out fine lines and impact on those pesky wrinkles.
Frankly, it's bit like having a time machine without the mad professor.
Bee Lush contains our organic and ethically harvested South Island Bee Pollen, which is known to help reverse the effects normal ageing has on the skin. It helps smooth away wrinkles, corrects darkening and blemishes and contains a large number of vitamins, proteins, amino acids, mineral salts, enzymes and coenzymes along with other elements which are deeply absorbed by the skin.
Amongst other goodies, you'll find Marshmallow Root which due to its high mucilage content, helps to restore moisture and bring water into the driest of tissues. This creates a softening and plumping effect to skin and helps maintain hyaluronic acid in the skin.
There are no reviews for this product.
Leave a review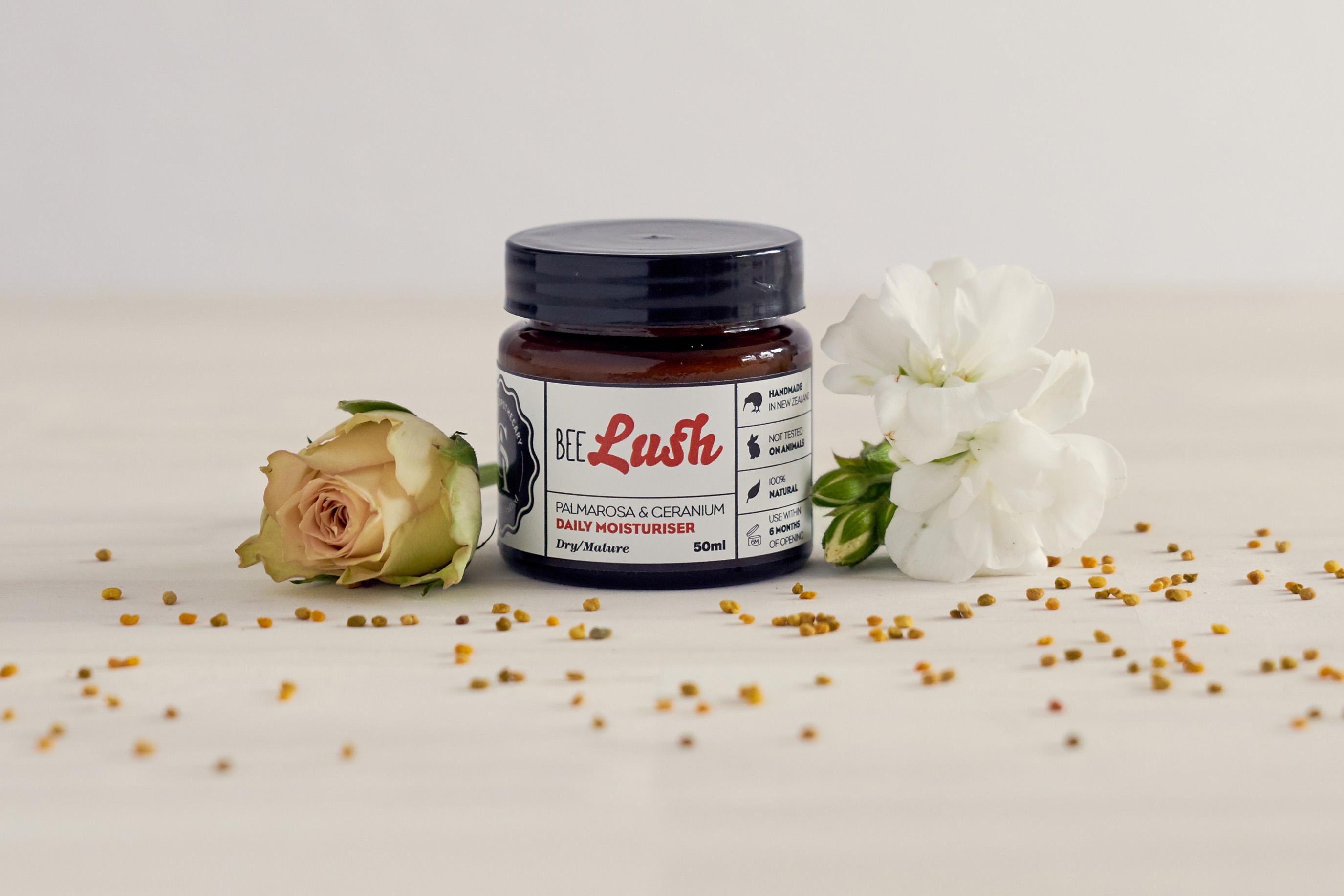 Bee Lush Moisturiser – Palmarosa & Geranium - 60ml
Recommend to a friend
The details
Ingredients

Water, Rose Hydrosol, Oils of Apricot, Camellia & Coconut, Coconut Emulsifying Wax, Extracts of Raspberry Seed, Meadowfoam Seed & Aloe Vera, Castor Oil, Extracts of Horsetail, Olive Squalene & Spirulina, Natural Preservative (Extracts of Elderberry, Usnea, Grapefruit Seed, Totara, Benzoin, Rosemary Oleoresin, Essential Oils of May Chang, Cinnamon, Palmarosa, Oregano), Bee Pollen, Marshmallow Root, Rose Petals, Essential Oils of Palmarosa & Geranium

Dosage

Scoop out a small amount of cream.
Gently apply to your cleansed and toned face.
Give yourself a high five in the mirror, you deserve it.
Delivery & Returns
Learn how to edit the text in this section by looking at your theme's notes section.