The Sage Apothecary
Bee Clear Moisturiser – Bitter orange & cedarwood
Perfect for oily, highly sensitive, red, irritated, blemished or problem skin, this mini moisturiser contains herbs like Chamomile, Calendula and the superfood Bee Pollen – which is known to have suppressive effects on acne as well as the ability to help eliminate blemishes, pimples, blackheads and scars. This little cream is also perfect for those with sensitive skin too, like psoriasis and eczema suffers.  Mix all of that with the amazing healing, soothing and calming power of Comfrey and Chickweed…and you've got one bad ass moisturiser that's ready to take on the world.
Bee Clear contains organic and ethically harvested Bee Pollen, which is high in vitamin B, antioxidants and Zinc. Zinc can help to reduce the inflammatory chemicals that are released by the immune system, which occur in the very early stage of acne, preventing both white and blackheads. Bee Pollen also helps heal and correct blemishes and contains a large number of vitamins, proteins, amino acids, mineral salts, enzymes and coenzymes along with other elements which are deeply absorbed by the skin.
You'll also find herbs like Chamomile and Calendula which go to work on problematic skin due to their anti-microbial, anti-bacterial, and anti-inflammatory properties shared between them.
These healing herbs are then perfectly blended with extracts of Comfrey root, Echinacea, Horsetail and Chickweed. Comfrey helps heal by promoting the formation of new tissue as well as improving the skin's overall appearance, whilst Echinacea has been found to both improve skin hydration, ease eczema symptoms and also suppress Propionibacterium, a common cause of acne. Chickweed has anti-inflammatory and antiseptic properties lending itself useful for the treatment eczema,  psoriasis and may other common skin issues, it also reduces itching and redness. And finally Horsetail, helps minimise the appearance of large pores and improves the skins tone and texture.
There are no reviews for this product.
Leave a review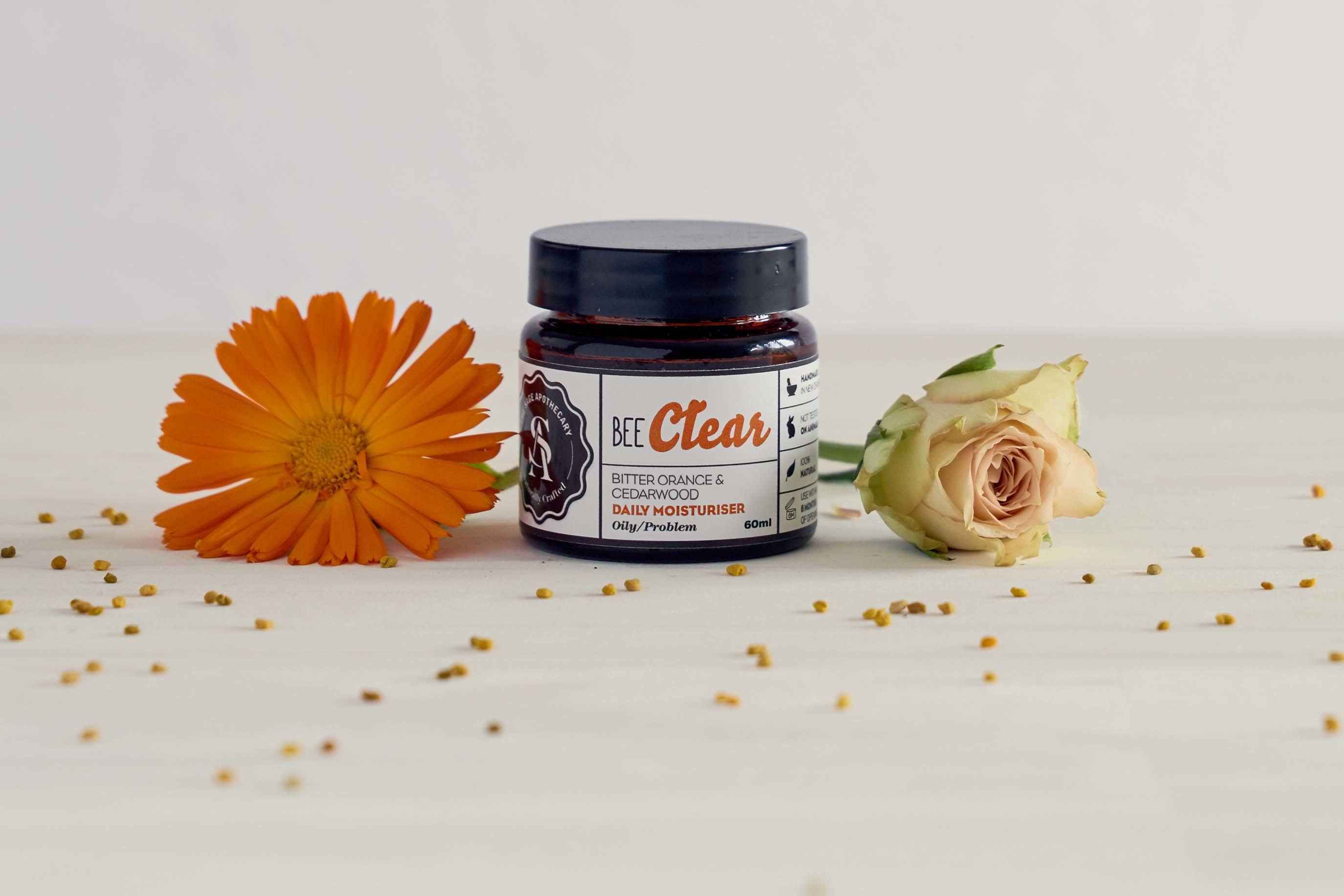 Bee Clear Moisturiser – Bitter orange & cedarwood
Recommend to a friend
The details
Ingredients

Aqua, Cetearyl Olivate & Sorbitan Olivate (Olive Wax), Rosa Damascena (Rose) Hydrosol, Oils of Capric/Caprylic Triglyceride (Coconut), Prunus Armeniaca (Apricot) Kernel, Sesamum Indicum (Sesame) Seed & Vitis Vinifera (Grape) Seed, Glycerol (Non-GMO & Palm Oil Free, Vegetable Glycerine), Gluconolactone & Sodium Benzoate (Natural Preservative), Organic Ricinus Communis (Castor) Seed Oil, Extracts of: Echinacea Angustifolia, Equisetum Arvense (Horsetail), Squalane (Olive), Stellaria Media (Chickweed), Symphytum Officinale (Comfrey), Bee Pollen, Calendula Officinalis (Marigold) & Matricaria Recutita (Chamomile), Essential Oils of Rosmarius Officinalis (Rosemary), Citrus Aurantium (Petitgrain) & Cedrus Atlantica (Atlas Cedarwood) containing: Citral, Geraniol, Linalool & Limonene.

Dosage

1. Scoop out a small amount of cream.

2. Gently apply to your cleansed and toned face.

3. Give yourself a high five in the mirror, you deserve it.
Delivery & Returns
Learn how to edit the text in this section by looking at your theme's notes section.