The Wellness Practitioner
Anti-Inflam Herbal Formula (100 Capsules)
Herbal anti inflammatory formula that targets whole-body inflammation.
What are the benefits of the Anti-Inflam Herbal Formula?
Individually, the different ingredients are helpful for supporting many health conditions, but all of them together offer a powerful way to support inflammation in the body that can often lead to pain.
Inflammation can be beneficial to the body, but only for short periods of time. When inflammation is long-term, it can lead to many uncomfortable symptoms and named diseases occurring. Eliminating foods that cause inflammation, adopting a regular exercise routine and learning to manage stress can also help lower inflammation. The Wellness Practitioner Anti-Inflam Herbal Formula can be taken for short periods of time when wanting to lower inflammation levels
What is Anti-Inflam Herbal Formula?
Anti-Inflam Formula contains the following ingredients that are all thought to lower inflammation in their respective ways: Curcuma longa, Trikatu and Boswellia.
One of the main ingredients, Curcuma longa also known as Turmeric, is popular as an anti inflammatory herbal remedy which is possibly the most researched herbal remedy, with many scientific studies backing up the anti inflammatory component. It is also said to help support digestion. Curcuminoids have been identified as one of the important active ingredients that are found in Turmeric and make up 2-6% of this plant in total.
Another key ingredient is Trikatu, that is said to be an effective natural herbal anti inflammatory that may be able to assist in lowering the production of inflammatory compounds. 
Who could benefit from taking this Anti-Inflam Herbal Formula?
People looking to take a herbal anti inflammatory supplement that contains Turmeric as the main ingredient to support the body in lowering inflammation. The information provided on this herbal formula is based on traditional use only.
There are no reviews for this product.
Leave a review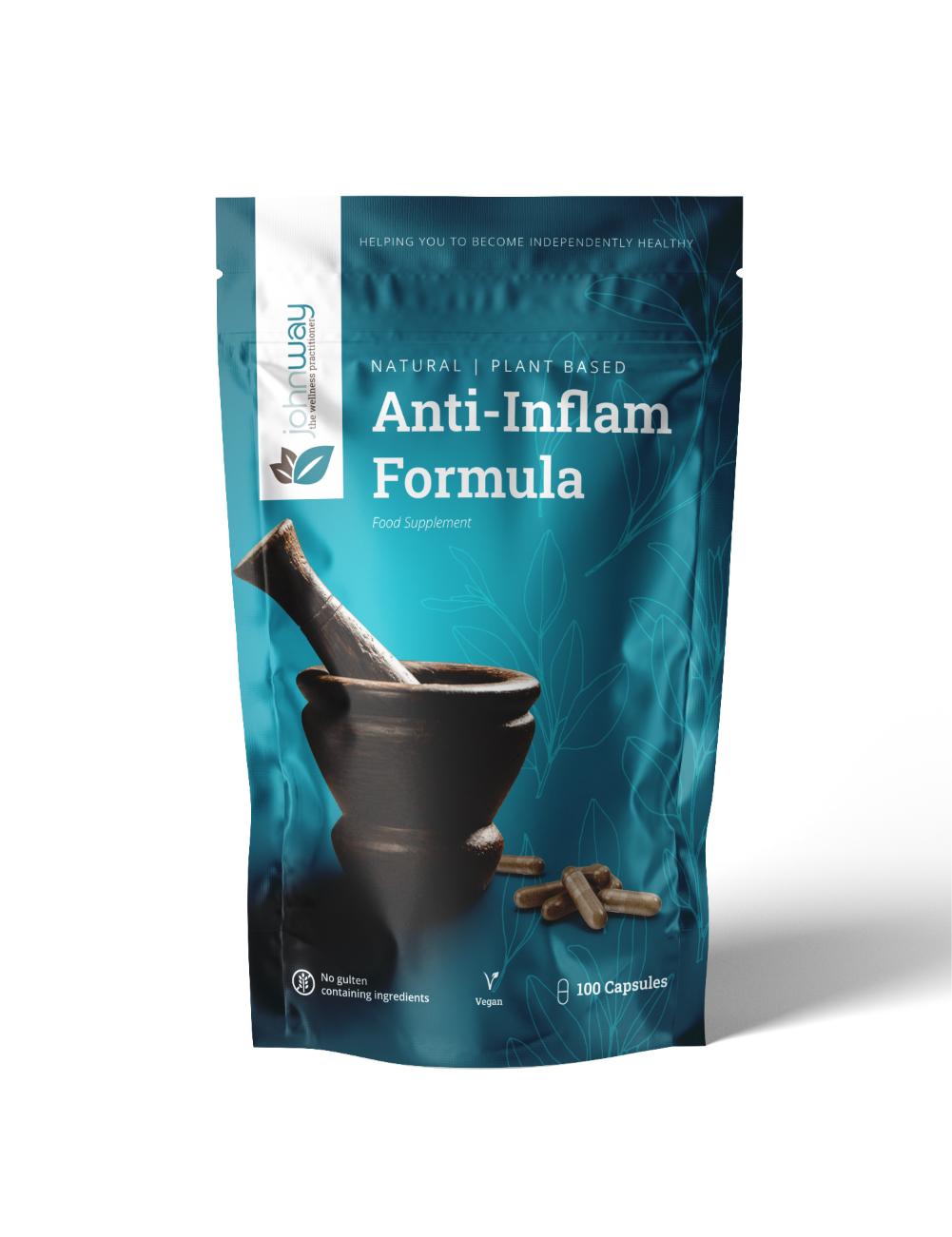 Anti-Inflam Herbal Formula (100 Capsules)
Recommend to a friend
The details
Ingredients

Curcuma longa 300mg, Trikatu 150mg, Boswellia serrata 50mg; HPMC capsule.

Dosage

1-2 capsules up to three times a day, or as directed by your health practitioner. 

Safety & Warnings

Do not exceed stated recommended dose. A food supplement should not be used as a substitute for a varied diet. Store in a cool place, out of reach and sight of children.   If you are pregnant, breastfeeding, have a medical condition or are taking any other medication, please consult a medical professional before use. 
Delivery & Returns
Learn how to edit the text in this section by looking at your theme's notes section.